Alright, so we have been reporting about it for a while, and more reports are flowing in with each passing day. Samsung's much-awaited range of Galaxy S7 smartphones is now rumored to make a debut at Mobile World Congress (MWC) 2016. The event, as usual, is going to take place in Barcelona. Moreover, a new promo image also suggests that Samsung is going to unveil the Galaxy S7 edge+ side by side with the Galaxy S7 edge and Galaxy S7.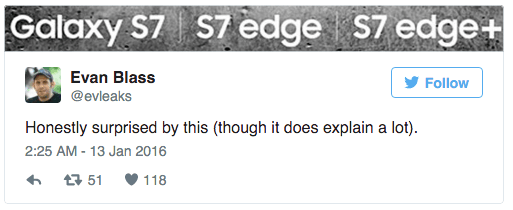 This means that there are going to be three variants of the Samsung Galaxy S7, which are distinguished on the basis of size and design. As we know, the edge series comes with an edge display on the right of the screen, which is used as a notification slide. This new report might have some credibility, as Samsung did launch the Galaxy S6 and S6 edge at MWC 2015, however, the bigger variant of the S6 edge, the S6 edge+ was launched with the Note 5 in September 2015.
Samsung is planning to adopt a different strategy this year, and might just launch all the three devices in a single blow. This also means that the company is reserving the Galaxy Note 6 for a solo launch, and who knows, it might also launch the edge variant of the Note 6 along. Last year, many were expecting Samsung to include edge screen and stylus in the Note 5, but sadly, it did not happen. So this year, the company might cater to the needs of users. Moreover, the teaser image of does not drop any hint about the Galaxy S7+, which was previously rumored to be a part of the line-up, with a bigger display than the regular Galaxy S7. Now, as the new teaser image does not display the S7+, so there are chances that Samsung might have dropped it or they may just market it as a variant of the Galaxy S7, without any extra branding efforts.
The Samsung Galaxy S7 line-up is poised to come with 1440p displays, 4GB of RAM, and 12-megapixel BRITECELL cameras. All the devices in the segment might come powered either by the Snapdragon 820 chipset or Samsung's in-house Exynos processor. We will soon get to know the real deal as soon as MWC 2016 kicks off. Stay tuned with us!