State-run telecom operator Bharat Sanchar Nigam (BSNL) has selected Gemini Communication, a Chennai-based provider of networking products and solutions, for rolling out its 4G networks as per the Press Release received by Telecomtalk correspondent Nitish Jain. The speed test done by him during his interaction with Gemini Engineers are attached below.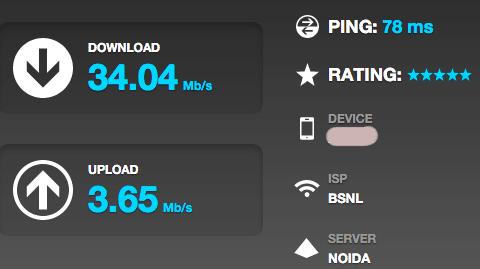 Initially, these services will be offered to its employees and will be available for demonstration for general public.
N K Gupta, Director (CFA), BSNL, said: "BSNL's 4G network will be able to provide high speed data up to 100 Mbps and customers will be able to download large files of the order of 1GB within few seconds which at present take hours. This will play a vital role for video camera surveillance, traffic management solutions and the home land security services in India."
R Vijay Kumar, CMD, Gemini Communication, said that the customers can avail this service with 4G enabled smartphones such as Apple iPhone-6/6s, Apple iPad, Motorola X Play, Asus, Microsoft etc and many more devices to come. R C Hooda, Chief General Manager, Punjab Circle, said that BSNL has already planned for replacing the age-old existing exchanges with the latest Next Generation Network (NGN) technology.
In Phase-I, 11 exchanges have been replaced with NGN technology in Chandigarh, Jalandhar and Amritsar telecom districts by migrating 50,000 subscribers in the new technology. Meanwhile, 55 more exchanges will be replaced with NGN in phase-II having 1, 50,000 subscribers.
BSNL Punjab has installed around 150 towers to upgrade its mobile network in FY2015-16 and it is likely to complete installation of 200 towers by end of March.