Reliance Jio Infocomm's Voice over LTE (VoLTE) service works seamlessly with other operator networks, and there's no difference in experience on VoLTE to 3G/2G/fixedline call as compared to a fully Circuit Switch back (CS) call, Credit Suisse said, which tried out the Jio network in and around Mumbai. Jio recently started beta-testing 4G network by issuing connections to employees and their families. The brokerage firm said that the VoLTE service is important since lack of a good voice product is still perceived to be one of the weakest links in Jio's strategy by the bulls on telcos.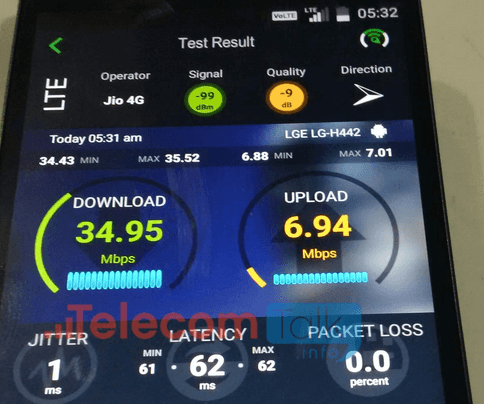 Further, the firm said that the network coverage was on par with incumbent telcos such as Airtel, Vodafone and Idea Cellular. "We visited shopping malls, office buildings, market places, train stations. Even while travelling at high speed on a highway, the call quality was good without any drops," the note said.
The firm, while conducting a network trial, experienced peak download speed of 70Mbps during trials, and on most occasions in the 15-30Mbps range. It compared Jio's 4G speeds with Airtel's 4G, which is giving 10-20Mbps, and termed the latter's speeds as slower. Credit Suisse however said that the handset availability is limited in the beta phase with only 20 models recommended for full VoLTE functionality, starting at a price of $130.
The firm anticipates that this list of smartphones will expand soon. "Overall, our take away is that the RJio network is turning out to be as strong a threat to incumbents as we had feared," the firm said. It also added that Jio's next focus would be on pricing and marketing execution.