Mukesh Ambani-led 4G telecom operator Reliance Jio Infocomm has added 3.9 million new subscribers in the month of April, taking its overall base to 112.6 million. The telco pipped incumbent telcos Bharti Airtel, Vodafone and Idea Cellular in terms of user additions in the month, according to latest data released by the Telecom Regulatory Authority of India (Trai).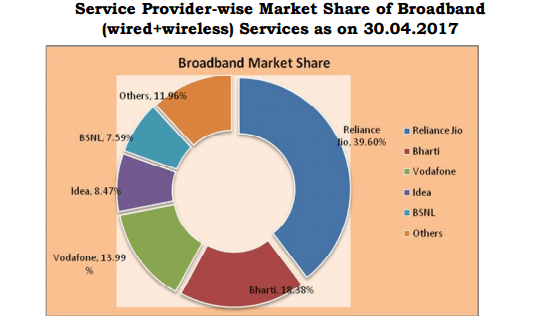 However, Jio's user acquisition speed has slowed down from 5.83 million users in March. India's mobile phone customer base rose 0.38 percent, or a net 4.4 million, in April to reach 1.17 billion, according to the Trai data.
Bharti Airtel added around 2.9 million new users, taking its overall base to 276.5 million in April. India's second largest telco Vodafone added 0.8 million users to take the overall base to 209.8 million users. Idea Cellular, on the other hand, added 0.7 million new users to take its overall base to 112.6 million users.
Bharat Sanchar Nigam added 0.8 million new users and now has a base of 101.8 million users across the country. Aircel, which is in the process of merging operations with RCom, lost 0.3 million users and now has a base of 90.6 million users.
Reliance Communications and Telenor too lost 1.3 million and 1.1 million users, respectively taking the base to 82.2 million and 49.3 million. Tata Teleservices lost 1.5 million users, Sistema Shyam TeleServices lost 0.3 million, while MTNL lost 0.002 million users
The Mukesh Ambani owned telco now has a market share of 9.58%, up from 9.29% in March. Airtel, Vodafone India and Idea Cellular sustained their top three positions in that order, with 23.54%, 17.86% and 16.69% shares, respectively.
Jio was also the top in the wireless broadband service provider with 112.55 million customers, followed by Bharti Airtel with 52.25 million, Vodafone with 39.76 million and Idea Cellular with 24.09 million. Reliance Jio's free offers launched in September last year, which had helped it garner over 100 million subscribers in 170 days. The Trai data revealed that active mobile subscribers in April were 1,174.60 million.