Reliance communications has launched a new offer whereby it is giving a free wipod dongle with new postpaid connection to customers who buy a Nexus 9 tablet WiFi/Cellular model. The Nexus 9 tablet running Android 5 Lollipop, powered by 2.3GHz dual core processor, 2GB of RAM and having an 8.9 inch screen is being sold by reliance for an upfront price of Rs.26,990 for the 32GB model.
Reliance also offers an option to purchase it on EMI basis with the 24 month plan having an EMI of Rs.1309, the 12 month plan having an EMI of Rs.2411 and the 6 month plan having an EMI of Rs.4657.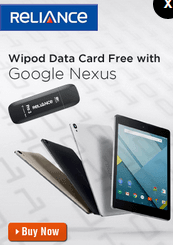 This offer is available only in Delhi, Ahmedabad, Faridabad, Gurgaon, Bangalore, Cochin, Trichur, Trivandrum, Mumbai, Pune, Jaipur, Udaipur, Chennai, Coimbatore, Hyderabad, Ghaziabad, Meerut, Noida and Kolkata cities. Only the Wipod Data card is free and customer has to pay monthly bill as per Reliance plan subscribed. Free Wipod Data Card with postpaid connection will be fulfilled in 15 days of transaction. The free Wipod data card offer is available on purchase of Nexus 9 online at shop.rcom.co.in. only during the offer period.
Rs. 999/month plan is not available in Chennai and Karnataka. Rs.1999/month plan is not available in Karnataka. This offer is valid till 31Aug2015 only. The offer may be closed or withdrawn anytime without notice before the offer validity date. The device model dispatched can be either Haier E28 or ZTE AC3633 as per stock availability.
All Offers available on NEW postpaid connection only. Additional 14% Service Tax will be applicable on monthly plans. For Wipod Datacard Offer,national roaming on CDMA at upto 14.7Mbps is available only on Reliance Pro3 network, it can switch to speeds upto 144kbps for towns/cities with no Pro3 / HSD Coverage.