We decided to test the so called Rev. B Wifi enabled data card by reliance called Pro 3. We got ourselves one for testing purpose in Mumbai circle. The sales person at the reliance gallery in south Mumbai handed us the data card after doing the first activating recharge and giving us the instructions for the tele verification. After the verification call the device was able to latch on to EvDO network and we were able to load up web pages.
All testing was done in a prime locality in the heart of south Mumbai. When we opened the landing page of the Pro 3 data card, it showed status connected and full signal strength in Pro 3 Mode. But a closer look revealed that the Pro 3 network that the card was latched on to was the regular EvDO Rev.A network with peak download speeds of 3.1Mbps not the Rv. B network that was promised with peak speeds of up to 14.7 Mbps.
Web pages seemed to load up smoothly and browsing was not an issue, even streaming of standard definition videos on youtube seemed to work fairly well but HD videos had considerable buffering pause. We checked the speeds on speedtest.net and during peak hours we only got speeds in the range of 0.5 Mbps both downlink and uplink. During the non-peak hours the downlink speed went up to 1 Mbps and post-midnight touched around 1.5 Mbps but still only in the range of the average Rev. A network.
Rev. A networks use a single 1.25MHz carrier to carry data with peak downlink speed of 3.1 Mbps and uplink speed of 1.8 Mbps. Rev. B network uses multiple carrier aggregation to increase the data carrying speed and capacity. Phase 1 Rev. B networks simply add up Rev. A carriers to double the speed so two carriers of 1.25MHz will offer peak downlink speed of 6.2 Mbps which is offered by Tata Docomo Photon Max. Phase 2 Rev. B networks increase the speed offered by each 1.25 MHz carrier to 4.9 Mbps so two carriers will offer peak speeds of up to 9.8 Mbps which is offered by MTS Mblaze Ultra or 3 carriers will offer peak speeds of up to 14.7 Mbps as advertised by Reliance Pro 3.
To clarify things further we registered the device in 'My services' website of Rcom and checked the plan and balance details. As visible in the screenshot below, it clearly states that the Netconnect+ speeds are up to 3.1 Mbps not 14.7 Mbps.
We decided to contact customer support and complain about the lack of Rev. B network and get a clarification on the poor speeds being experienced by us while testing the Pro 3. We were routed to live chat support but the executive did not seem informed about the difference between a Rev. A network and a Rev. B network and tried to walk us through the lay man's trouble shooting steps, by asking us to test speed on speedtest.net and share the results with him. Below is the screenshot of our chat with the executive.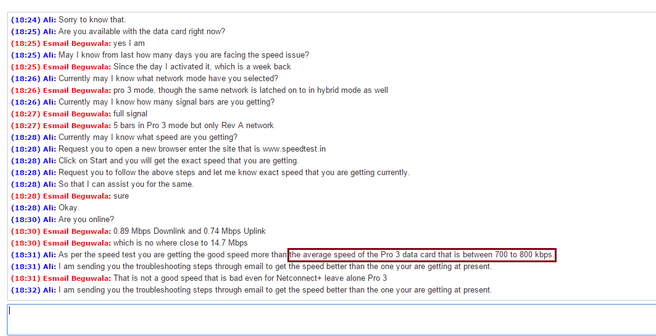 As you can see, the executive went on to tell us that the average speed of Pro 3 data card is between 700 to 800 Kbps. And also sent across a standard troubleshooting steps email to us which again was worth nothing significant.
TT verdict:
Reliance is advertising the Pro 3 data card as a Rev. B device with speeds at least 3 times faster than the regular Rev. A based Netconnect+ but the truth is that they have only released the devices in the market but not upgraded the BTS from Rev. A to Rev. B which is why even Pro 3 devices latch on to the slower Rev. A network. Plans for Pro 3 devices are higher priced than those of Reliance 3 (Netconnect+) but both devices give the same performance in terms of speed. We advise readers to request for a demo at the place where you will be using the device before buying it. If the device does not latch on to Rev. B network then it will be better to go for Netconnect+ 3.1 Mbps devices since they will give you the same performance with lower tariff.