Smartphone manufacturers these days are busy updating their devices to Android 5.0 Lollipop. Huawei seems to have joined the list too, which already contains biggies like Samsung, HTC, Sony, Motorola, and LG. The Chinese OEM is in the middle of readying up the Android 5.0 Lollipop update these days and will release the same for its devices starting from May this year.
The first in line to receive the update will be the Ascend Mate 7, which will then be joined in by the Ascend P7, the Ascend Mate 2 and the Ascend G7. The Ascend Mate 7 currently runs Android 4.4 KitKat, and was launched last year in September. The update for the Ascend P7 and the Ascend Mate 2 will start rolling out from July. The Ascend Mate 2 will skip the Android KitKat update and will get updated to Android Lollipop right after Android 4.3 Jelly Bean.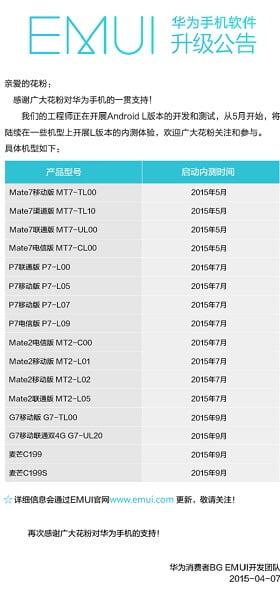 The Ascend G7 will get the latest version of the operating system in September this year. The update will bring along with it a newer version of the Emotion UI which is in its third iteration as of now. The company is busy these days gearing up for the launch of the upcoming flagship, the P8 which is expected to run Android Lollipop out-of-the box. This will give us a fair bit of an idea as to what can we expect in Huawei's devices after the update comes in.
There is no information as of  now about the update for devices like the Honor 6, the Honor 4X and the Honor 6 Plus, but we believe that would crop up in the coming weeks. Huawei has come to the party a bit late as majority of the OEMs like Samsung, Motorola and LG have begun their Lollipop upgrades, but it's better late than never.