Apple has launched a new exclusive RED coloured variant of their latest Apple iPhone 7 and iPhone 7 Plus. Apple, in the past also launched their products in Red colour variants. The Cupertino giant usually donates some amount to the Global Fund to fight HIV/AIDS for each unit of the Red option they sell. However, Apple did not disclose the amount it donates but claimed that they had donated $130 million since 2006.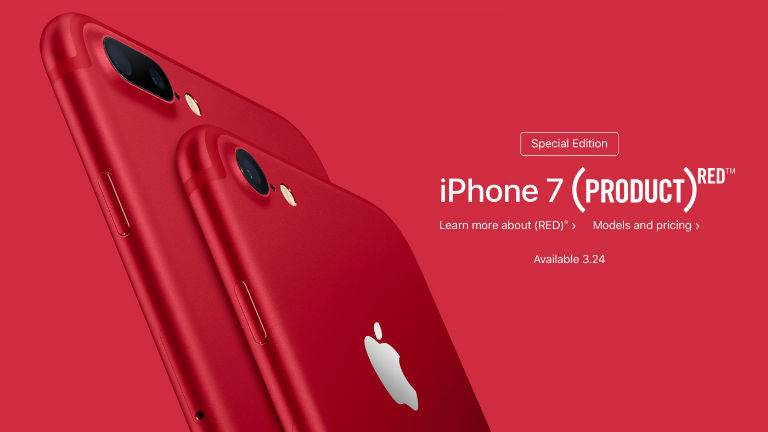 The Red coloured variant of the Apple iPhone 7 and 7 Plus comes in two storage options- 128GB and 256GB. The phones will be available at a starting price of Rs. 82,000 from all the Apple Authorised centres in the country from March 24. There are no changes to the hardware of the Red iPhone 7 and 7 Plus, though.
"Since we began working with (RED) 10 years ago, our customers have made a significant impact in fighting the spread of AIDS through the purchase of our products," quoted Tim Cook, CEO of Apple, in a statement.
"The introduction of this special edition iPhone in a gorgeous red finish is our biggest (PRODUCT) RED offering to date in celebration of our partnership with (RED), and we can't wait to get it into customers' hands," he further added.
Besides this, the company also announced new variants of the compact Apple iPhone SE. Apple has ditched the 16GB and 64GB variants of the iPhone SE and replaced them with 32GB and 128GB storage options. The upgraded iPhone SE options can also be purchased from Apple Authorised centers from March 24. The price of the 32GB iPhone SE is Rs. 27,200.
The Apple iPhone SE 16GB variant is currently selling for Rs. 19,999 in India with a cash back option when you purchase the product with your credit/debit card. The offer will end on March 25, and it is the best phone for Apple lovers and also for people who are looking for a compact smartphone under Rs. 20,000.