The famous hacker group Anonymous India has yet again accused Reliance Jio of sharing user data with foreign countries. Last year the group had made a similar claim stating that Jio chat app was sending across user location data to servers located in China, this time around they have accused Jio of sharing call data of users to servers located in USA and Singapore.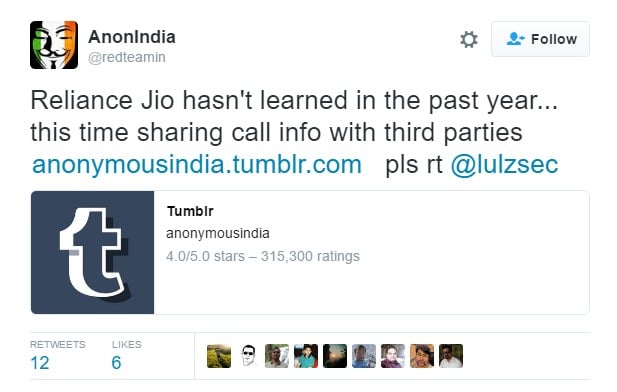 Last year Jio had rubbished the claims of the Anonymous group saying that all data related to Jio chat was being sent by the app to its own servers located in India and no data was being routed to international servers, also the reference to the Chinese location  in the apk of the app was simply because Google maps does not function in China and the app would need to rely on a local Chinese GPS solution for location based services.
This time around the anonymous group has shared an image which points out that the VoLTE call related information is being routed by Jio to servers based in USA and Singapore. The image has been displayed below for reader reference. Anonymous group has also detailed on its website, the step by step process by which users can themselves verify this breach of user privacy by Jio.
This time around there has been no official statement by Jio abasing the allegations by the hacker group. A mail sent by TelecomTalk to Jio demanding clarification on the issue remained unanswered at the time of publishing this story. But considering the recent commercial launch of services and keeping in sight Jio's track record, we expect a reaction by the company sometime soon.
Update:
Jio clarified its stand on the matter through an official statement made to the Hindu Businessline saying "Jio takes its customers' security and privacy very seriously. In keeping with its highest standards of governance, Jio does not share its customers' data with any other entity. Any information captured by Jio is only for internal analysis to deliver better quality of service and recommend offerings from Jio's product portfolio."