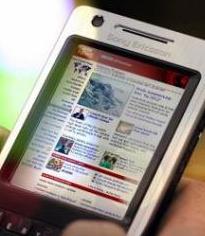 With the telecos preparing for the 3rd Generation services, the race to capture the current GPRS market is heating up. Having paid a huge amount for the 3G license, its evident that the 3G service is not going to be exactly cheap.
So the next best option is the GPRS service and that's what every telco is getting into.With new packs and low rental plans being introduced in every other circle.
One of our users has been kind enough to test out the competition between TATA Docomo and Vodafone, not on the pricing but on speeds and given his verdict.
Speedtest was done with Nokia 5230 handset using Mobilespeedtest.com Conducted at Yelahanka, Bangalore City.
All stats which are shared depends on site mobilespeedtest.com (They send 100kb from mobile to their server and measure how much time it consumes in that process).We Decided to conduct Tests at 3 different Timings morning, evening and midnight.
Morning Stats are as shown in Screenshot.
The Speed was 75 Kbps when used with Vodafone Connection at 7:30am Sunday then we did the Same Speed Test with Docomo at 7:35am which gave a whooping speed of 91.2 kbps!! the difference is almost 16 kbps between Vodafone and Docomo at Morning!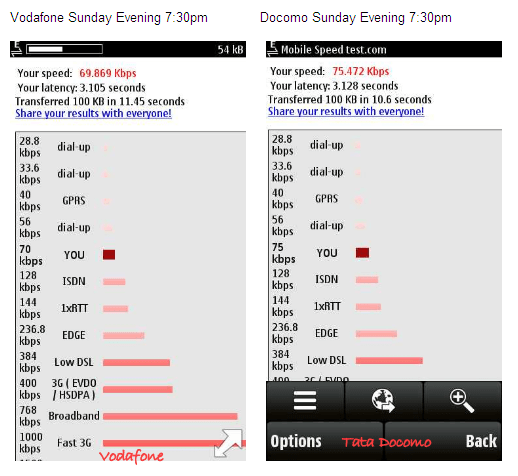 We Continued the Same Speed Test at Evening- Vodafone Speed was 69.8kbps while Docomo gave a speed of 75 kbps both operators have similar speed!! The difference is 5 kbps.. docomo's speed was bit fluctuating.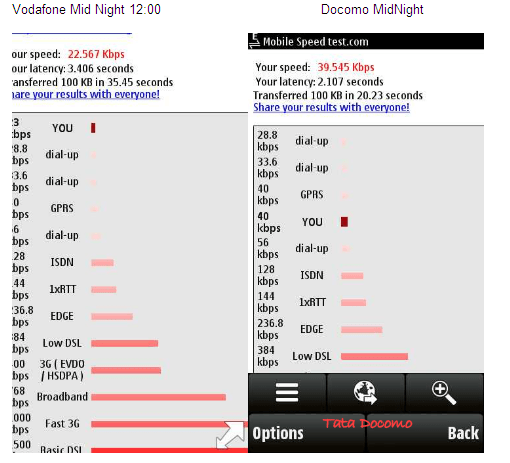 We had Conducted MidNight Test at 12:00 Saturday the Speed Surprised us! Vodafone's Speed was Just 23kbps less than a dial up! while docomo crossed 40 kbps we can find a sudden drop in both operators GPRS speed may be there is more traffic at night (may be so many uses wap sites at night.. specially its Saturday midnight, weekend )
Speedtest was done with Nokia 5230 handset using Mobilespeedtest.com Conducted at Yelahanka, Bangalore City.
Well the verdict is out – Tata Docomo has taken the crown between the two telcos. We appreciate the results shared by our Telecom Talkers and look forward to more inputs and experiences in the telecom world.
However, these tests were conducted by individuals using resources of their choice and therefore beyond our control. We are merely sharing the same and cannot be held liable for any biases, disputes or claims arising out of this tests.
Thanks To- Chethan Thimmappa @che2on