Reliance Communications has slashed its 3G rates under a new plan, bringing it on par with 2G data services, under the new 3G data plan, users can access 3G services at Rs 123 for 1 GB, Rs 246 for 2 GB and Rs 492 for 4 GB. Even Reliance has updated its portal with a ticker for the big launch about this plan.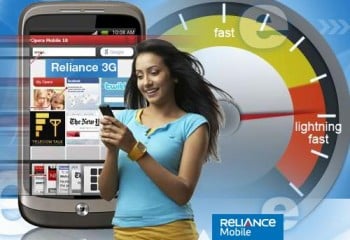 New customers coming to the company's network through mobile number portability (MNP) will also be able to get the benefit of 1 GB of 3G data free per month for two months. The offer is applicable to existing, new users in both prepaid and postpaid segments, customers can avail this pack with local retailers starting tomorrow.
The move is aimed at making 3G accessible and affordable to all customers, and promises to trigger a fresh data-usage wave in the country, the company said in a statement. With a 1 GB Reliance 3G data pack of Rs 123 a user can watch three full-length movies (more than 300 MB size of each movie), watch 40 to 50 YouTube videos of video file size 25 MB and listen to 250 songs (each song is about 4 MB), it added.
Now we have to wait and watch how rest of the operators gonna counter this move from Reliance.