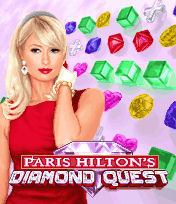 Reliance Mobile has tied up with US-based Gameloft, to offer  Paris Hilton's Diamond Quest games for RIL mobile users . This is the first official mobile game from Paris Hilton, showing the star's glamorous side and elegance.
By hosting this game on its network, Reliance will offer its subscribers a rare look inside the doors to Paris Hilton's stunning universe studded with diamonds and sapphires! She has been an actress, a model, and a television star.
In the game, Paris needs help to launch her own line of jewelry. Reliance enables its subscribers to hop on board her private jet and travel with Paris Hilton to today's hottest cities (New York, Cancun, Paris, London, and others) in search for exceptionally rare jewels.
The player has to make it past numerous puzzles along the way. Reliance Subscribers will be offered choice of several game modes that have different rules but are all based on a similar concept that is both simple and exciting as part of its tie-up with Reliance Mobile, Gameloft will also launch the mobile games version of some of the latest Hollywood offerings on Reliance's CDMA and GSM networks across WAP/Brew, Blackberry platforms. These include Night At Museum 2, Terminator Salvation and The Mummy 3.
Mr Krishna Durbha, Head VAS quuoted  Reliance Communications,Our tie-up with Gameloft is part of our strategy to strengthen our gaming portfolio. Indians love celebrities and movies. Through these unique offerings, we are making sure that our subscribers derive added excitement by not only playing games on their Reliance Mobile but also play games based on super-hit Hollywood movies and world famous celebrities.
As part of the larger game-plan, Gameloft will also offer Reliance Mobile a portfolio of games based on Ferrari World Championship, Wimbledon 2009, Spider-Man Toxic City, and a few offerings based on famous television series including CSI: Miami.