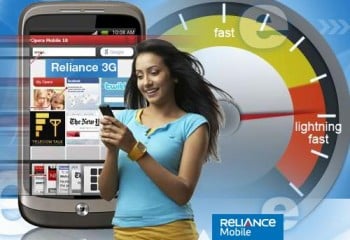 Its now time for other operators to show their colors on 3G. In our previous post we had posted the speed test review of Airtel,Tata Docomo 3G services, courtesy goes to our readers.
This time another reader of our named Mr.Manpreet Singh who hails from Tilak Nagar Delhi has tested his Reliance 3G connection.
Let's see what it has in store for us Mr.Manpreet Singh tested his connection by using his Nokia E52.
He was able to access Reliance 3G service since December 18th.Manpreet Singh has been using Nokia E52 which is a 3G SIM compatible handset and the speeds were quite good which ranged around 1.1 Mbps Mbps or so.
Please note that he is using the APN rcomnet and Manpreet Singh also quoted for him his Balance was not deducted nor he has activated any 2G data packs during the test .
During the speed test the lowest speed he received on download was 40KBps and maximum of 460KBps.So here are few speedtests and screenshots which he observed.
We would like to thank Manpreet Singh for taking out his valuable time and giving us the feedback and observations regarding Reliance 3G service.
Altaf from Mumbai has tested Rcom 3G using using a 3.6 Mbps HSdpa enabled device and he received 0.36Mb/s upload speed and 3.11Mb/s download speed.