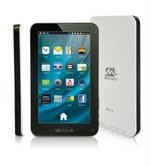 Mercury, a leading player in computer peripherals today announced the launch of high speed 1.2 GHz 3-Core processor tablet named as Mercury mTab.
mTab has a inbuilt Wi-Fi feature and with mTab supporting 3G module Internet surfing using external 3G USB dongle, mTab will also offer special customized 3G packages as a bundled add-on with the tablet for free internet surfing anywhere, anytime.
With a built-in 1.3MP front camera, video conferencing & creating videos can easily be done, while the mPad is also capable of playing videos continuously for 4 hours and supporting all photo and music formats.
It measures 19.3cm X 11.7cm X 1.4cm, has a 7-inch WVGA TFT LCD touch display, G sensor screen rotation for 3D G-games and weighs just 400gms making it one of the easiest on hand.
Powered by Android 2.3 Gingerbread OS and 512MB RAM along with a 4GB inbuilt storage and a micro SD slot that supports external storage up to 32 GB and comes for a price tag of  Rs 9,499.
A Happy Geek and a Network Research Engineer with a really cool day job…