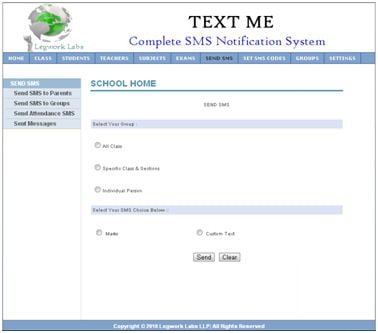 Bangalore Based Software Development Company Legwork Labs has launched TEXT ME a sophisticated yet surprisingly easy to use TWO way SMS notification system.
Which will revolutionize the way communication happens between parents and educational institution.TEXT ME is a web based SAAS product which doesn't require any special hardware / software in order to run at clients place.
Only it needs is a basic PC with an internet connection the unique technology helps parents and teacher to communicate in a cost & time effective manner.
Sending of marks, attendance, announcements, bus tracking, homework etc is now no more a pain all this at a very low price.
Talking to us, Shubhendu Sharma founder of Legwork Labs LLP, said this application will ease the communication problem currently faced in the education industry.
From tracking the admission process till the student is the alumni, all the required communication can be systematically managed via this tool.
SMS platform makes sure that the information is received instantly and to the right person. he added.
This tool is now available for more info click here .