Reliance Jio, the latest entrant to the Indian telecom sector, has been creating a lot of waves with its free services. Apart from the free 4G services, Reliance Jio Infocomm also has several digital content services under them. One among them is the JioCinema (formerly known as JioOnDemand), which has a wide catalog of content: movies, TV Shows, latest movie trailers, etc. Having said that, Jio claims that they have over 1 lakh+ hours of exciting content to watch.
Let' see in detail on what the JioCinema app has to offer:
1) Wide Catalogue of Movies
As said earlier, JioCinema offers a broad range of movies across all the genres including the romance, animation, action, thriller, comedy, etc, to choose from. There are several latest videos present in the collection of films. Also, the movies are available in several languages such as Telugu, Malayalam, Hindi, etc.
2) Favorite TV Shows Are Here as Well
Apart from the movies, users who watch a lot of TV shows can enjoy this app as well. Yes, the JioCinema has several favorite TV shows from every language which it supports, which is an added advantage.
Also Read: Airtel myPlan Infinity 1199 vs Idea Unlimited Combo Plan 1199: Which Plan Serves You the Best?
3) Browse Through Various Latest Music
The JioCinema app does offer to view the latest music content from almost every language. However, the video catalog is not that great, but it gets the job done most of the time.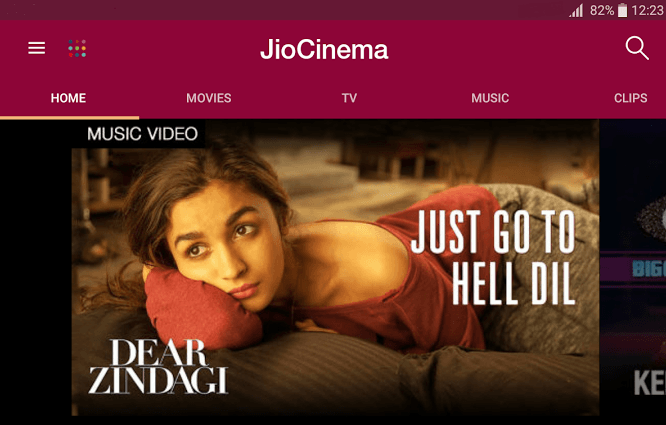 4) Catch the Latest Trailers
The JioCinema app also has the collection of various latest movie trailers released. The best part, Jio is working hard on embedding every latest video onto the service, which is a good thing to see.
https://www.youtube.com/watch?v=MtdhZqpTj8Y&feature=youtu.be
5) Features of JioCinema App
a) Similar to Hotstar's resume feature, the JioCinema app also allows you to watch videos in periods. To be precise, if you are watching a video and got a sudden work to do, then you can leave the video right away, but whenever you visit to look at the movie, it will be resumed from where you left.
b) Users can browse and watch the content simultaneously, which is same as the YouTube drag down feature. Also, this application works in the same algorithm itself.
The JioCinema app is being used by several people over the country due to its attractive features. The service's only rival will be the Airtel's Wynk Movies, which is slowly gaining attention with its content, but it will take some time to stand a chance against JioCinema app.