India's third largest service provider had a phenomenal year with the company recording as much as 17% revenue growth, when we compare the revenue of April-May-June quarter of 2014 and 2015. This is based on financial data released by Telecom Regulatory Authority of India (TRAI). In the same period the industry recorded a growth of 6%. In comparison to Idea, Bharti Airtel and Vodafone India both recorded a revenue growth of 7% each. Idea recorded revenue of Rs 7677.01 crore in AMJ-2014 and Rs 8948.7 crore in AMJ-2015.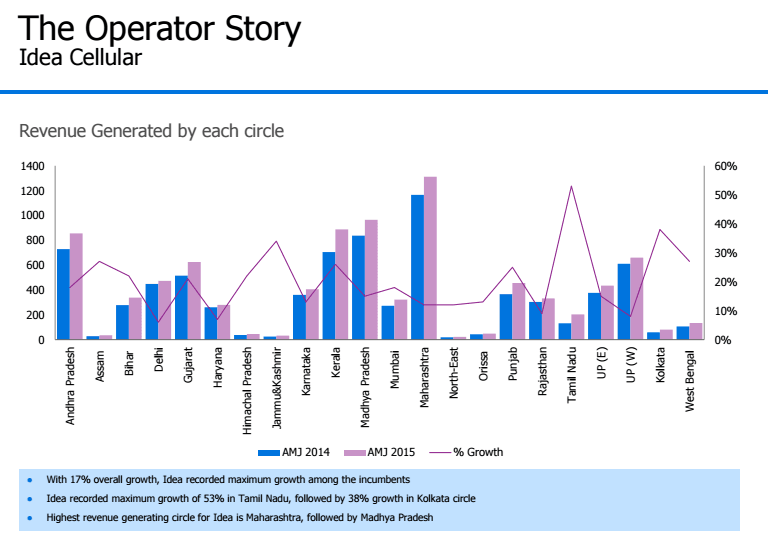 The company recorded maximum growth of 53% in Tamil Nadu circle with its revenue increasing from Rs 132.3 crore in AMJ-14 quarter to Rs 202.6 crore in AMJ-15 quarter. This is the highest growth any incumbent has recorded in a particular circle. Significantly Idea launched operations in Tamil Nadu circle only in 2009. Kolkata and Jammu & Kashmir are the other two circles where the company has recorded a high growth of 38% and 34% respectively.
In the period between AMJ-14 and AMJ-15, the company has recorded a double-digit growth in most of the circles. Highest revenue generating circles for Idea are Maharashtra, Madhya Pradesh, Uttar Pradesh (West), Punjab and Kerala. (See Fig)
There are many reasons for this growth. The company has been the biggest beneficiary of Mobile Number Portability (MNP). Idea claims to lead the MNP port-outs. Nearly 13.9 million (as of May 31, 2015) subscribers have ported out from their telco to Idea, says the company's investor presentation at the end of Q1FY16.
Idea Cellular has been consistently growing in the last few years. In the last four years, the operator has advanced from the number five spot to third spot, based on subscriber growth as well as revenue. At the end of September 2015, the company claims to have a 16.7% marketshare.
Idea owes a part of its success to the cancellation of 122 spectrum licenses in 2012. While operators like S Tel and Etisalat were forced to exit operations, others like Aircel and Tata DoCoMo were forced to scale down. All this benefited Idea. The company has been gaining marketshare on the back of significant investment in network expansion and upgradation. Idea added 8,331 additional 2G cell sites in 2014 taking its total base stations to 109,931. The company also added a significant number of 3G cell sites.
Idea is also steadily reducing the network gap where fiber is concerned. Now it has 95,100 kms (up from 71,600 kms of fiber in 2013) of optic fiber while Bharti has around 193,000 kms and RJio, which is yet to launch operations, claims to have 250,000 kms of fiber laid out. Idea has also deployed 100G dense wave division multiplexing network technology to cater to the increasing data demand in the country.
Idea is also gearing up for the launch of 4G services. Initially the company was planning to launch 4G only in 2017 but the changing market dynamics have forced Idea to prepone this launch. A key part of the company's strategy is its focus on rural subscribers. "Primarily new subscriber additions are from rural India. Idea leads the industry with its 56.6% of subscriber base from rural India," says the company in its investor presentation at the end of Q1FY16.