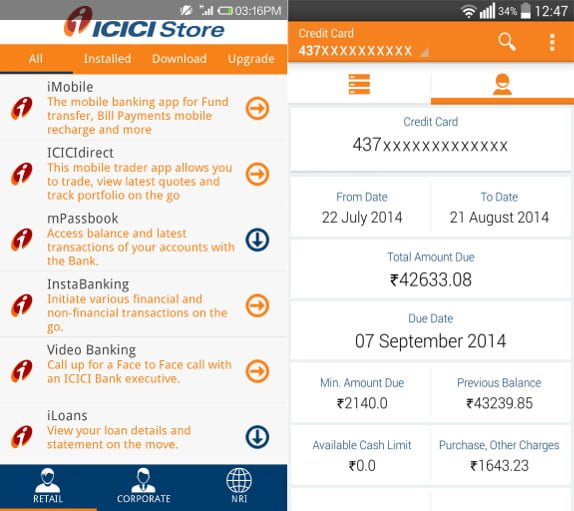 ICICI Bank has announced four new mobile apps for Android and iOS platforms. These apps feature, ICICI Store, Insta Banking, Video Banking and mPassbook. All these four apps would let users make a transaction before visiting a branch, customers can also connect with a service executive over video call and track their transactions over the last 30 days on mobile. These apps aim to provide an advanced banking experience for the customers.
ICICI Store: An app store which is designed to provide customers with an advanced view of all mobile banking applications. The app facilitates smooth selection, download and upgrade of the ICICI Group apps.
Insta Banking: An app which aims to reduce the time wasted on filling up the paperwork for most used transactions in a bank branch. The app enables users to process desired transactions at any given time, up to seven days prior to visiting the branch. So whenever the customer visits a branch to complete the transaction, it will be executed on priority basis. Cash deposit, cash withdrawal, request for demand draft, updating personal information like communication address, PAN etc can be done with this app.
Video Banking: This app enables the Bank's Wealth and NRI customers to initiate a video chat with the customer care executives 24×7 from anywhere to discuss banking queries and get details regarding products and offers.
mPassbook: This app helps customers to view their recent savings, credit card and PPF account transactions on their mobile phone. Now customers can receive real-time updates of transactions and can also tag remarks on the transactions for easy tracking. This app will show the transactions even in the offline mode.
At the launch, Chanda Kochhar, MD & CEO, ICICI Bank, said, "We continue to leverage technology to provide a world-class banking experience to our customers. ICICI Bank has pioneered many innovative solutions for its customers like internet, mobile, Tab and Touch banking among others. With these new mobile banking applications, we will offer our customers a unique and unparalleled experience in their interactions with the Bank. These new initiatives are yet another testimony of our deep commitment to the philosophy of 'khayaal aapka', where we put our customers' needs as the focal point of our business. I believe these apps will further propel the growth of mobile banking in the country." she said.
These new apps are available for easy download on Google Play store and will also be available shortly on the Apple app store. More information about these apps are available on ICICI Bank's website.