Back in December 2013 we published a detailed analysis of how India's national telecom service provider BSNL can turn profitable again. Our efforts bore some fruit and BSNL started taking corrective measures soon after. Now we are making a similar effort with a comprehensive analysis of how Airtel can continue its growth saga. Airtel is already profitable and is showing good growth but by tweaking certain things we felt they can grow more! Above all it is the market leader who sets the trend for an industry until some new/existing player comes up with disruptive offerings.
The Mobility Market in a Developing Country
A playbook published by The Boston Consulting Group (BCG), a global management consulting firm, cites that mobile carriers already have the tools to gain competitive advantage over rivals and demands a fundamental shift in planning and mindset. BCG suggests moving to least-cost networks and providing a differentiated customer experience for high value customers to gain an edge.
The BCG report notes that telcos' margins are at stake with operators losing out in terms of competitive differentiation. Whatever action a provider takes to get ahead is quickly replicated by others. We have witnessed this in India all these times - right from per second voice tariffs to data tariffs which were replicated to the last paisa.
With this background we are set to analyze what Airtel can do to maintain a competitive edge over rivals like Vodafone, BSNL and others. We are concentrating only on mobile services as over 80% of Airtel's yearly revenues come from Mobile Services.
Airtel's Advantage
Airtel has always had the first mover advantage in India as they were one of the first operators to start mobile services in all parts of the country. This has resulted in a strong subscriber base and strong network all over.
Where Improvements can be made?
Tariffs
Airtel certainly needs to look back at their tariffs. Particularly in the data segment, which is growing at fastest pace and is one of the largest contributors for Airtel's revenues, Airtel is charging a hefty premium. Our recent articles highlight these issues -
Airtel Increases 2G Data Prices by 29%, Reduces Benefits
Exclusive: Airtel 3G to be back in non 3G Circles through ICRA on 5th May – to Cost 40% More?
Airtel 3G Postpaid Tariff Card for ICR Circles: Costs 11% more
It must be noted that currently Airtel's 3G rates are way higher than other players in the industry. When players like BSNL are charging around Rs. 150 or less, Airtel charges Rs. 249 for a GB of 3G data. When it comes to 2G data, Airtel's pricing is 10p/10 KB after exhausting data limits.
Airtel, according to us must charge customers according to general industry slabs. Customers would certainly welcome such a move from Airtel. We received tremendous response for the post - Result ofCompetition? Airtel Slashes 3G Internet Rates by 45%. Airtel took a U-turn in less than 24 hours, but the response from readers speaks about interest!
Of course quality of service matters, but not one can afford premium tariffs. Volume is the key to growth in telecom industry and premium rates can lead to lesser volumes.
Least-Cost Network
The BCG report cited above notes that "Operators moving from 3G single-carrier technology to 4G, for example, experience a 17-fold increase in speed while reducing the cost per megabyte by a factor of 12". The least cost network or network expansion when done in areas where good number of customers using data reside can rake in good revenues and at the same time improve customer satisfaction. So the key is to deploy newer technology like 4G and 3G where it matters.
Airtel and other players have joined hands in the form of Indus towers to share the tower infrastructure. Airtel's own tower base is one of the biggest in India. Efficient sharing would lead to better returns. Currently, tower infrastructure services are contributing 9% to Airtel's revenues - may be increased to 15% in a timeframe of 2-5 years.
Use of renewable energy to power the towers can be yet another move that can save costs. Indian telcos are rather slow in this kind of initiatives.
Customer Centric Options
Though Airtel has been striving to provide good service to customers there are issues. Take into account the selfcare services for instance. Despite of repeatedly covering the pathetic state of service, Airtel has done little to change things. The mobile app is not in a better state either. The app which was last updated in December 2013 has seen more complaints than words of appreciation. Here is what people have to say about the app.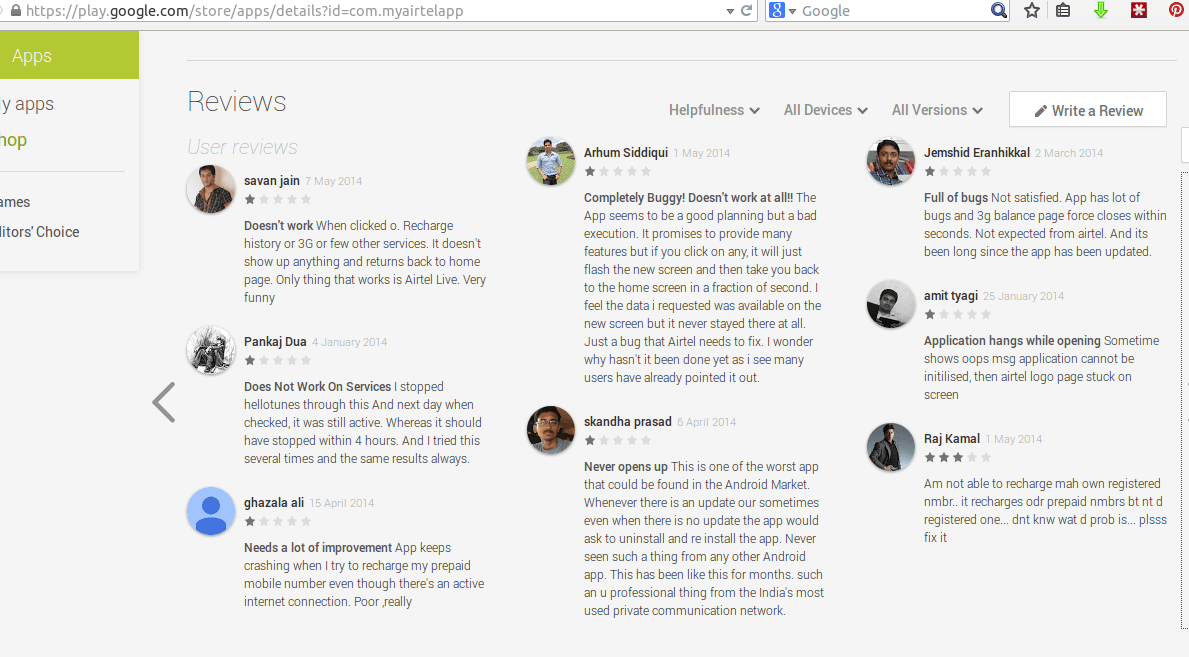 Customer Care through social media (twitter, facebook etc.) has been improving by a huge margin withtime. Airtel needs to maintain this!
Bugs or issues are not exactly new on Airtel services. Check out Airtel's Security Breach or Manual Error, Allows Access to Others Account Details [Reported n Fixed]. There was a privacy breach too - Airtel Prepaid Mobile Customers – forget about your Privacy! Your Call Details are at Risk and is Freely Available to Anyone
Message to Airtel: Don't launch a service/application and forget about it. Just maintain them regularly. A thorough testing is a must before launching any service.
Value Added Services
Airtel like any other operator provides several value added services. Again maintenance is what is lacking - Our reality check on Airtel Emergency Alert. It's only after we covered the issues that Airtel updated a whole set of new information in their web pages.
VAS which comes at a premium for customers must be well kept - be proactive and not reactive towards problems.
Operator Billing, Airtel Shop
Operator billing needs a big push in India. In India people, particularly students and those who hail from smaller towns and villages do not have access to credit cards and such modern banking means. Sometimes they don't trust app stores enough to divulge the information. In such situations operator billing to buy music, applications would mean a lot to them. Airtel as a market leader must consider starting this trend.
Many might not even be aware of Airtel's online shop launched in 2012! Airtel must start showcasing this shop more and consider introducing contract based handset offerings like foreign carriers. Indians who dream about owning high end phones can choose Airtel more.
Airtel Money
Airtel Money an innovative offering can go a long way in total financial inclusion. Airtel can take the role of a pioneer here and work with RBI and leading banks to make this happen. It must be remembered that in India there are more mobile phones than bank accounts.
We believe Airtel can continue to lead Indian telecom market with the measures outlined above. Did we miss something? Readers, let us know.