Airtel will be the second operator after Vodafone to re-launch 3G services through ICRA in the country. TelecomTALK today received inputs from multiple sources that Airtel will start offering 3G data services through ICRA starting tomorrow. The circles which will see a launch of 3G are Haryana, Maharashtra & Goa, Kolkata, Kerala, Madhya Pradesh & Chhattisgarh, Gujarat and UP (East). The bad news now is the services will be expensive compared to normal Airtel 3G tariffs. A retailer who did not wish to named shared this tariff chart with us which will be applicable to prepaid customers.
Airtel Prepaid 3G Data Tariff Card
In 3G Circles
Airtel 3G Tariff in ICRA Circles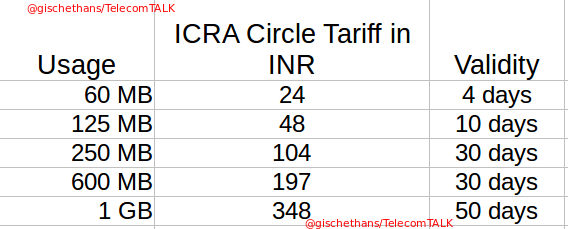 It may be noticed that the data usage slabs in ICRA circles are different compared to normal 3G circles. The common slab 1 GB, which costs Rs. 249 in a 3G circle will cost a user Rs. 348 in ICRA circle. An increase of 40% with a validity increase of 20 days.
We made our efforts to confirm the re-launch date by calling Airtel's 121 in two circles. Though the executives confirmed the launch date as tomorrow they categorically denied to confirm the tariffs.
Note: As we received inputs from anonymous sources and not from Airtel we can't vouch for the tariffs. Readers will have to wait till tomorrow for Airtel's official tariff chart.