Way back in 2013, Airtel launched 'Emergency Alerts Service' amidst much fanfare. The service touted as a first of its kind service in India claimed to change the way we react towards unexpected in daily life. The service is advertised to do this:
Airtel Emergency Alerts, a unique solution that is there for you in your moment of need. Dial 55100 (toll free), to immediately and automatically send emergency alerts via automated voice call and sms to your loved ones along with your nearest location information.
Note the words nearest location information. Not only this, the service also boasts of being able to send your location update every 10 minutes for 30 minutes once you send an emergency alert after turning on optional tracking feature.
What did we do?
Now after over an year of launch we decided to check if that really works! After all, as Airtel says "We live in difficult times. Emergencies are a fact of life. Every day we read or hear about new incidents. Danger lurks, ready to strike at those who are unprepared...!"
We activated the emergency alerts service on our number and set up a number to receive the alerts. Immediately the service charges of Rs. 30 got deducted. With the knowledge of second person the first person triggered several emergency alerts. What went on later puzzled both of us! We simply couldn't believe a company of Airtel's stature could be so careless about maintaining such an important service.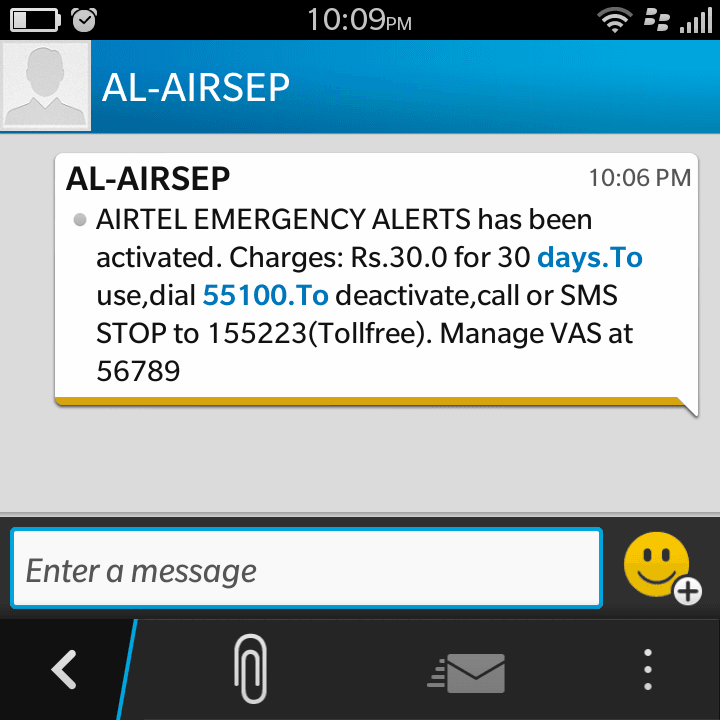 What we Discovered?
Once the service was activated, no SMS was received on how to use it. A flash message came in after some minutes but that did not contain full information. Now does Airtel expect everyone to check their website on PC to get this info?
According to Airtel, if the invitees are on DND they would not receive the invitation SMS unless they allow it. However, once a friend's number was added (my number), I got an SMS in this regard. I am registered with DND under fully blocked category. A violation from Airtel.
Now coming to the crucial part, the location - the service's USP is location and tracking but none of the messages I received had the location detail!
Assuming that location tracking would start working after turning on the tracking, we tried sending emergency alerts after turning on tracking. Alas, it didn't work even then. These are the messages I received at frequent intervals. If Airtel couldn't find the location even after several minutes we doubt if it works anytime! Not to leave this caveat from Airtel where they say

location might not work all the time!

:( Scary for a product, for which you pay a premium, comes with Conditions Apply where the basic thing might not work! We must add that the location from where the test emergency alerts originated had sufficient network coverage (ref. Screenshot at 1).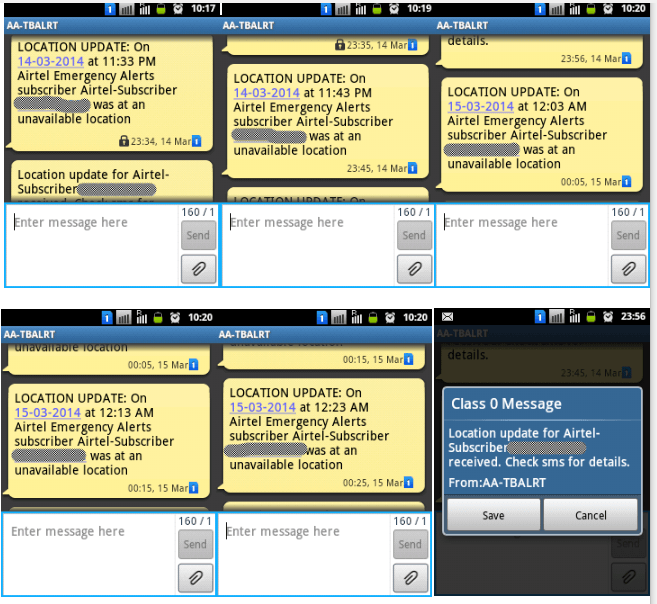 In whole, I received automated calls stating a dear one is in emergency, needs my help and the nearest location details are being sent by SMS. We are unsure how this can help without the crucial location details. At the max, one can call Police and inform about such a phone call. Valuable time would be wasted by Police for getting in touch with Airtel to track the phone. By then the phone might even be turned off forcibly.
In simple words, the 'Airtel Emergency Alerts Service' is not doing what it is supposed to do.
In a bid to know more about the service, we contacted Airtel's 121. The executive there seemed to have no clue about the very existence of 'Emergency Alerts Service'. We were initially given details about missed call alert service. We had to take a different route and ask the person to check the active VAS on the number and Emergency Services was found there. On asking to explain about that particular service, the answer was they have no information on it as it is a new service! If this is the level of support a Platinum Customer gets from Airtel, a common man is no different than Platinum customer.
If you care about Emergency
After looking at Airtel's Emergency Alerts, it appears to us that if you are using a basic handset you are at situation's mercy! It may be wise to buy a basic smartphone which comes equipped with a GPS on minimum, install a free application and be safe. Hopefully we would not end up in emergency situations, but again as Airtel says - "We live in difficult times...."
A final question to readers is, did you use any VAS from your service provider that claims to send messages of above nature during emergency? Do you use any app(s) for the purpose? Share your experiences.