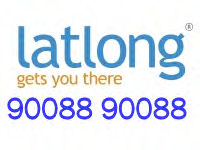 Onze Technologies India Pvt Ltd today announced the launch of location search and driving directions service in the easy to use SMS platform, wherein people can search where a place is located, as well as how to get there from any other part of Bangalore.
90088 90088 is an SMS-based location search and direction finding service that provides directions to people with or without Smartphones to any location in Bangalore.
How Latlong works: The user sends an SMS to 90088 90088, the request goes to a server managed by Onze.
The server automatically and instantaneously entertains the request from the customer as the information is already preloaded into the server.
The SMS service is available free of charge and all you pay is the standard SMS rate according to your plan. It needs no subscription. The Latlong system is equipped to understand the customers' request and gives them what they want – directions!
The service is reliable and involves very little waiting time. The reply back time varies from 3 seconds to 1 minute depending on the mobile operator's message traffic congestion and availability of signals.
The example usages of LatLong are:
Example 1: Jayanagar 4th Block TO MG Road
Example 2: INOX
Example 3: Mekri circle TO ESI Hospital
Example 4: SBI atm NEAR M G Road
You will get a reply SMS with the exact location and directions to reach the place from a prominent landmark.