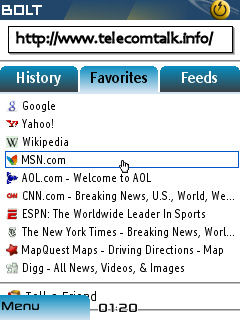 Bitstream Inc today announced that the BOLT mobile browser, the company's web browser for mobile phones of all types, has passed a major milestone, achieving its one millionth install just 19 weeks less than five months after its public debut.
The BOLT mobile browser, built to be used on a wide range of mobile phones from simple feature phones to more advanced devices such as BlackBerry smartphones, has averaged greater than 50 percent growth in usage each month since the application made its public debut at Mobile World Congress in Barcelona this past February.
Since its introduction, BOLT users have consumed more than 22 terabytes (22,000 gigabytes) of data from 61 million web pages.
Anna Chagnon, president and CEO of Bitstream cited It's been fascinating to see the similarities in how BOLT is being used by people all over the world, despite different geographies, languages and cultures .BOLT is available for free to anyone as part of its public beta test one can download a copy from http://boltbrowser.com ;we have also learnt that BOLT Beta3 version will be revealed to public next week.