As per the latest data released by TRAI, Airtel has become India largest broadband service provider. Airtel is also the largest mobile operator in the country.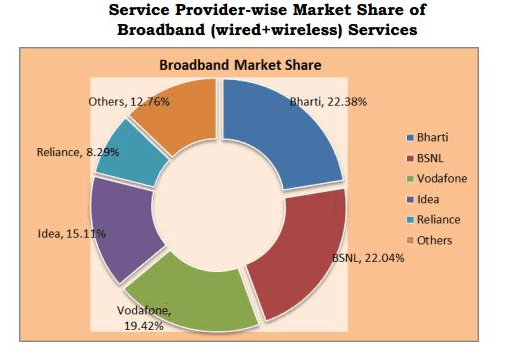 Airtel now has 19.19 million broadband subscribers pushing BSNL to the second place with 18.90 million users. Vodafone is at third spot with 16.65 million users. Idea Cellular and Reliance Communications secured 4th and 5th position with 12.95 million and 7.11 million user base. At the end of December 2014, India had 85.74 million broadband users, out of which 70.42 million are on wireless broadband and rest 15.32 million on wired broadband.
BSNL had held the top position in the broadband segment for nearly a decade on the back of its pan-India wired broadband service. Due to a recent surge in mobile data usage both Airtel and Vodafone along with Idea saw massive growth in 3G data service over the year. This has helped Airtel take no: 1 spot in the broadband market in the country.
Also read : Airtel to be largest Broadband provider, Vodafone registers 200% growth over the year
Incumbent operators are pushing for 3G service by hiking 2G data rates. This has now translated into massive growth in 3G user base with both Vodafone and Airtel adding about 1 million users in the month of December. This trend is likely to continue over the year with more and more users choosing 3G over traditional 2G data service. With the entry of Reliance Jio with 4G broadband service this year, wireless broadband space will witness more competition and exponential growth.
Do let us known by comments your thoughts on Airtel taking first spot in the broadband segment from BSNL.