Bharti Airtel Limited, has launched its 4G trials exclusively for its existing customers in Mumbai. As part of this, Airtel customers across the city can now avail a complimentary upgrade to Airtel 4G at 3G prices and be the first to experience blazing Airtel 4G speeds.
Airtel 3G vs Airtel 4G Mumbai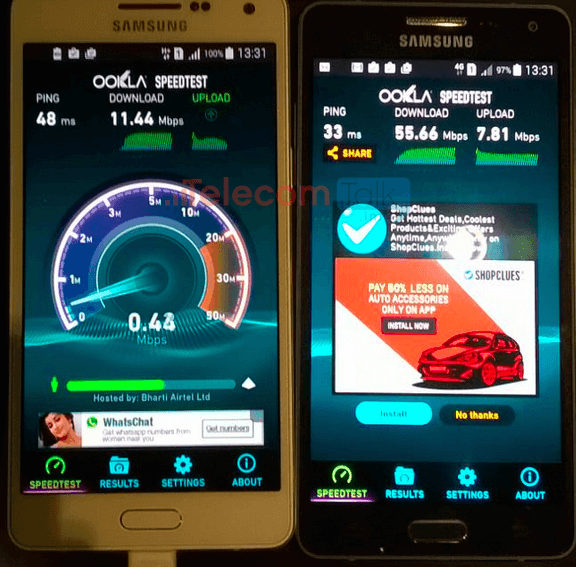 The company will use this trial phase as an opportunity to gather valuable customer feedback around the quality of its 4G services and assimilate these market insights into Airtel's wider agenda of building a world-class 4G network infrastructure for the city.
Announcing the beta launch, Ashok Ganapathy, Hub CEO - Mumbai. Maharashtra, Goa & Gujarat at Bharti Airtel Ltd said, "As an increasing number of Indians show a preference for consuming data and content over their mobile devices, we at Airtel are excited to bring the power of 4G to our customers in Mumbai. While launching Platinum 3G we significantly augmented our network and now have made further investments in building a robust 4G network here. For us, delivering a compelling service experience to our customers is our utmost priority. We want our existing customers to be the first ones to enjoy the Airtel 4G experience and are offering them a free upgrade to Airtel 4G at the same price as 3G. We look forward to our customers' valuable feedback towards delivering a truly world-class 4G experience in Mumbai".
To avail this offer, existing Airtel customers with 4G ready mobile devices can walk into any of Airtel's retail touchpoints across Mumbai and upgrade to a 4G SIM and experience mobile internet speeds like never before. Airtel has also announced go-to-market partnerships with Samsung and Flipkart to proliferate 4G devices and transition more and more customers to experience the fastest browsing experience.
Airtel 4G Mumbaiplan details
| | |
| --- | --- |
| Plan (INR) | Monthly Benefit (GB) |
| 100 | 300MB |
| 250 | 1GB |
| 450 | 2GB |
| 650 | 3GB |
| 750 | 4GB |
| 850 | 5GB |
| 950 | 6GB |
| 1250 | 8GB |
| 1500 | 10GB |
Flipkart will be offering Airtel 4G with double the data benefits for customers buying select 4G handsets. Flipkart-exclusive 4G devices (including brands like Xiaomi, Motorola, Lenovo, Asus and Huawei) that will soon come bundled with an Airtel 4G SIM. While existing Airtel customers will be able to follow a quick SMS registration process to activate 4G, non-Airtel customers buying their 4G device from Flipkart will be guided through a simple process to smoothly transition to the Airtel 4G network.
Airtel also offers an affordable WiFi hotspot device that allows compatible mobile devices latch onto the 4G network and experience superfast 4G speeds.