As we shared earlier about Airtel's 4G-LTE launch in Kolkata, it come true as today Airtel will showcase its 4G services in Kolkata. The inauguration of Airtel 4G will be celebrated with a special event organized at ITC Sonar, Kolkata. Union telecom minister Kapil Sibbal will be the chief guest of the event.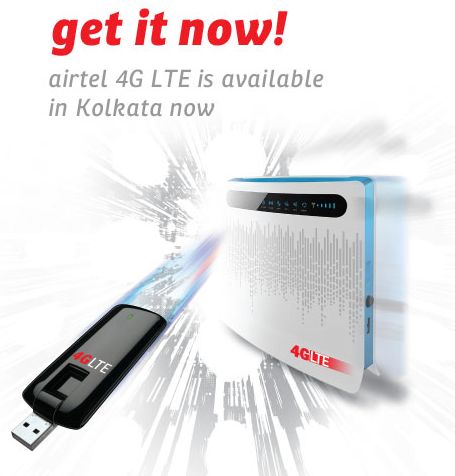 Airtel will offer 4G-LTE services over a wide range of devices including airtel 4G-LTE USB modem (Huawei E392) and airtel 4G LTE Indoor Wireless Gateway (Huawei B593). Airtel officials at the launch event clarified that it requires a 4G enabled 128kB USIM (priced at Rs 49) to use on the dongle. The airtel 4G LTE data card and WiFi CPE will be network locked. The price of the dongle and WiFi CPE are Rs 7999 and Rs 7750 respectively.
With Airtel 4G-LTE you can use mobile internet with bandwidth up to 40Mbps! Don't surf, just fly! 
Airtel 4G-LTE is based upon LTE-TDD (Time Division Duplex Long Term Evolution) using 20MHz of 2300MHz spectrum band which Airtel won in BWA auction held on 2010. Airtel's 4G-LTE network in Kolkata will be managed by ZTE Corp. In fact ZTE completed the 4G set up in a record time. ZTE supplied eNodeB and TD-LTE RAN for Airtel's 4G-LTE roll out.
Airtel 4G LTE can be used at home or your office for Wireless internet access, access rich content and multimedia applications eg: e-learning, HD content-movies etc, multiple downloads of heavy files, high definition multimedia content at the same time will be possible, Higher uplink and downlink speeds, Seamless online streaming – without buffering, High definition online gaming, access business applications that require higher speeds and last mile connectivity.
Airtel also announces the tariff plans for 4G-LTE, available for both prepaid and postpaid users.
Airtel 4G-LTE Plan Details:
| | | | |
| --- | --- | --- | --- |
| Plan Name | Monthly Rentals/RCV | Usage | Speed post FUP |
| Breakfree | Rs 999 | 6 GB | 128 kbps |
| Breakfree Max | Rs 1399 | 9 GB | 128 kbps |
| BreakfreeUltra | Rs 1999 | 18 GB | 128 kbps |
Introductory offer for postpaid users: 
Breakfree 999 users will get Rs 167/bill discount on first 6 bills.
Breakfree 1399 users will get Rs 466/bill discount on first 6 bills.
Breakfree  1999 users will get Rs 666/bill discount on first 6 bills.
As we come to know SmartByte will be available for postpaid customers of Airtel 4G, that means you can add extra data on your package anytime to continue your 4G experience. Additional charge for smartbyte will be added on your bill. Also your 4G number can be added to your Airtel mobile or landline/broadband postpaid bill – One bill for 4G, mobile, landline & broadband.
Airtel 4G Coverage Map in Kolkata
From the coverage details, I can tell you that at this stage Airtel covers major areas of Kolkata. But certainly sub-urband areas were not expected to be covered up at this stage, and they are not covered. South Kolkata has majority coverage. In the launch event Mr. K Srinivas, president, consumer business, Bharti Airtel told that right now coverage of 4G is available in 20 geographical clusters which comprises of 40% of total data market in Kolkata.

Fine prints regarding Airtel's 4G plans:
1. In order to enjoy 4G LTE services, you will need a 4G enabled USIM card.
2. You will require a 4G enabled device & airtel 4G network to enjoy airtel 4G services
3. All packs will work on both on USB Modem and 4G enabled indoor wi- fi device.
4. Service is available only in Kolkata – soon to be rolled out in Bangalore (within this month), Pune and Chandigarh next.
5. You cannot recharge a data pack with another data pack till previous balance is above 500MB.
6. On recharge with new data pack (when balance less than 500MB)/change in existing pack, earlier data balance available in your account will be forfeited.
With Airtel 4G-LTE you can have wide range of Value Added Services like Airtel Movies, Airtel games, Airtel Broadband TV, Live Devotion and many more. Airtel already launched a new website airtel.indiagames.com/airtel/4g/ to play live multiplayer games with anyone in the world in real time, with the lowest latency and therefore, the best reaction time.
For more details call Airtel representative on toll free number 1800 103 0405 or drop a line to airtel at airtel.in/airtelpresence .