Idea Cellular has launched 4G LTE services across 28 towns in Maharashtra & Goa, covering major towns of Nagpur and Ahmednagar. With this launch, the company delivered 4G LTE services in 10 circles within FY16.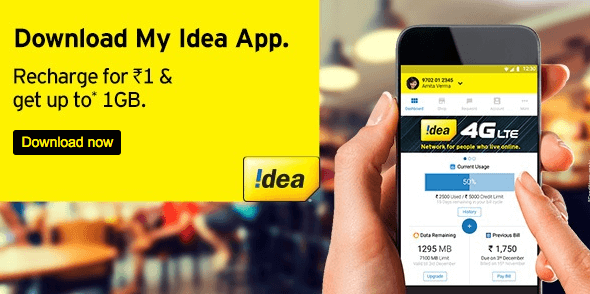 "Beginning Dec 23, we have rapidly expanded our 4G LTE services in these 10 markets in a record time frame of just 3 months. We have revised our capex guidance for financial year 2016 from Rs.65 billion to Rs.75 billion mainly on account of accelerated 4G capex and associated fiber rollout and are fully geared up now to grow our presence, strengthen our portfolio and make more people join the digital bandwagon," Mr. Ambrish Jain, Deputy Managing Director, Idea Cellular said.
According to the latest Q3 2016 report of TRAI, Idea has an overall RMS of 18.9%, making it the fastest growing telecom operator. Idea has 6.1 million 4G devices, nearly 6% of its subscriber base in these 10 telecom service areas, registered on its network. On the other hand, Idea has nearly 48.6 million customers owning 3G devices across the country, and over 9.8 million customers with 4G devices.
Idea has established partnerships with leading content aggregators, smartphone vendors and E-commerce firms for promoting its 4G LTE services. "We have taken a holistic approach in order to increase the uptake of this high speed mobile data offering called 4G LTE. Partnerships with leading content aggregators, smartphone vendors, Ecommerce biggies and the launch of our customized 4G website is our first step ahead in the direction of augmenting the usage of mobile data services. With the rapid expansion currently taking place, we will soon be rolling out a nation-wide, 360 degree 4G marketing campaign to up the level of engagement with the target group," Mr. Sashi Shankar, Chief Marketing Officer, Idea Cellular said.
From Dec 23rd, 2015, Idea rolled out its 4G LTE services in four circles of south - Andhra Pradesh & Telangana, Karnataka, Kerala and Tamil Nadu & Chennai, 3 major circles of north – Madhya Pradesh & Chhattisgarh, Punjab and Haryana in February, followed by extension of services to 2 other circles Orissa and North East, and now in Maharashtra and Goa.
Presently available in over 300 towns, Idea aims to exit FY16 with its 4G LTE services covering over 550 towns in these 10 circles, and plans to extend the 4G footprint to over 750 towns by June 2016.