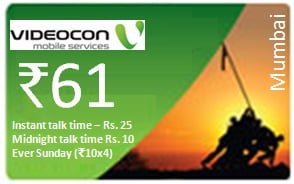 Videocon Mobile Services, one of the fastest growing telecom operators in Mumbai with just over 9Lk subscribers today launched a new recharge offer for Mumbaikars.
This new special talk time voucher (STTV) which is dubbed as SUPER SUNDAY Voucher is priced at Rs.61 offers an instant talk time of Rs.25 and an additional talk time of Rs. 10 @ midnight on the date of recharge.
With this special talk time recharge (STTR), you also get Rs.10 talk time on every Sunday for 4 continuous Sundays (Rs.10 x 4). In all with Rs.61 talk time recharge, you get a talk time of Rs.75.
Please note, this offer can only be availed if e-recharged with Rs.61 and this offer is only available in Mumbai.
For More information, you can talk to V-Care executive at 121 (toll free) from your Videocon mobile or 9076012345 (tolled) from any other number or alternatively you can also log on to www.videocon.com