Sony pictures networks (SPN) previously known as Multi screen media (MSM) has recently started broadcasting the HD feed of MAX channel. The channel which airs hindi movies is popular among the hindi content viewers across north India. Sony Max HD is currently available only on Airtel Digital TV DTH platform on channel number 167 and will be added on TataSky from 1st January 2016 on channel number 303.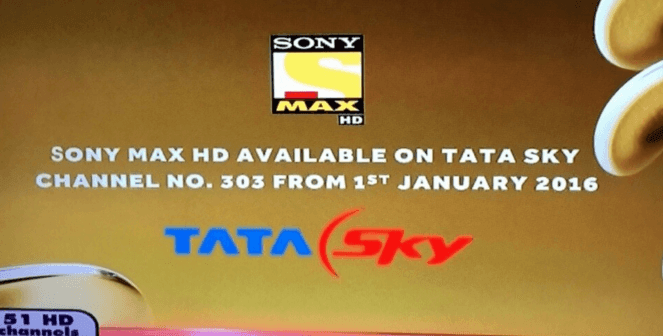 Tata Sky which currently offers the highest number of true HD channels and services on the DTH platform will from 1st January stop offering 4 HD channels namely HBO defined HD, HBO Hits HD, KTV HD and Sun Music HD. The addition if Sony Max HD will fill the newly created capacity formed by the removal of these channels. Sony pictures networks will soon start beaming the HD stream of its popular hindi comedy entertainment channel Sony SAB.
Tata Sky may also look to add other HD channels which are currently missing on its platform like Nat Geo People HD, Nat Geo Music HD, Travel XP HD etc. HBO has hinted towards the rebranding of HBO Hits HD as HBO HD. Tata sky is currently in the process of testing services from GSAT 10 to add to its transponder capacity which will help it to increase its channels and services offerings.