Reliance Jio is all over the internet. The new entrant which previously disrupted the Indian telecom sector with its free 4G services has been involved in a funny Twitter banter including the great Amitabh Bachchan and its rival network Vodafone India.
It all started when Big B tweeted to Vodafone India saying that he is facing some serious issues while sending messages via his Vodafone SIM card. He Tweeted as follows: "VODAFONE WE HAVE A PROBLEM..!! ALL SEND MESSAGES COMING FAILED .. RECEIVING SMS BUT NOT GOING .. HHEEEELLLLPPPPP !!!"
However, Big B got a very surprising reply for the same tweet. Minutes after posting the tweet, it was Jio who spotted the tweet and responded to that as: "Sir, we would be happy to deliver a Jio SIM to you & activate it instantly through our Aadhaar based eKYC home delivery process,"
Maybe, this sort of reply was not expected by Amitabh Bachchan as well. Nevertheless, the issue was solved within 30 minutes by Vodafone, and the big man himself stated that in his next tweet. With this incident, it is pretty clear that every telecom operator is ready to take up the issues thrown by the consumers within minutes.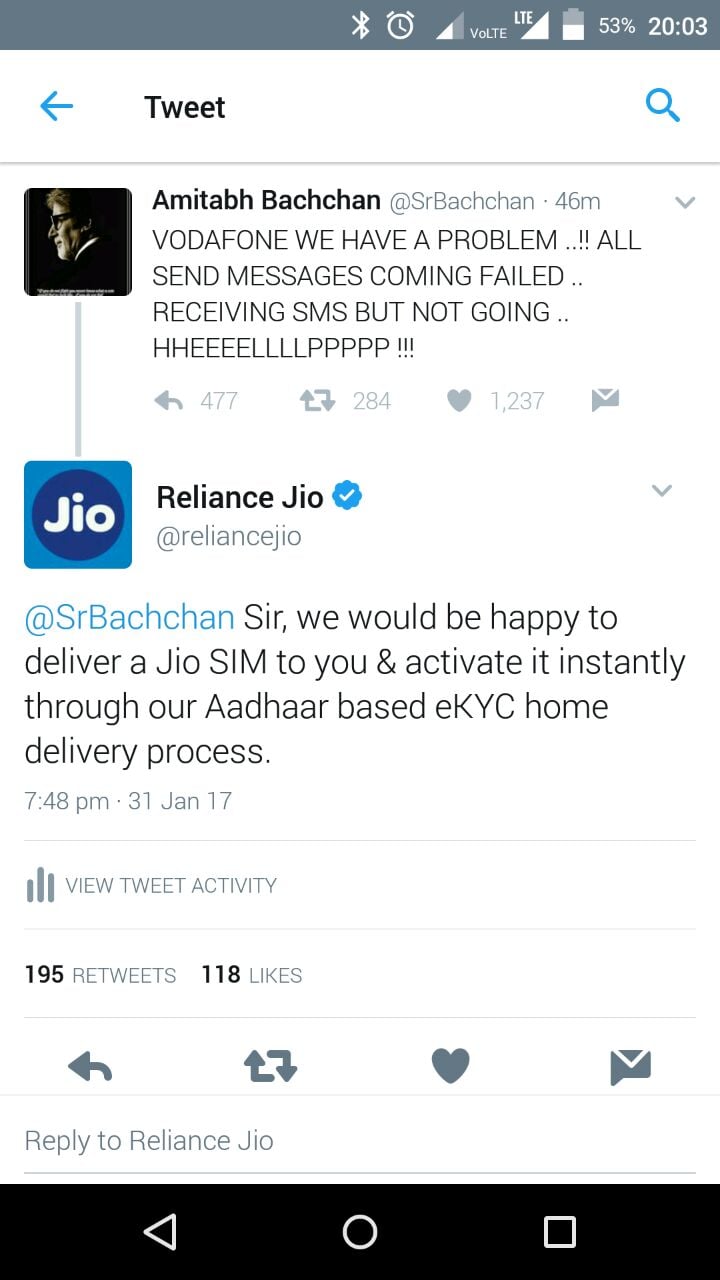 Also Read: Data war: Bharti Airtel is now offering 4GB of 4G Data at Rs. 149 as part of segmented offer
Also, the best part here is Jio making its move to respond customer issues lot quicker than they used to. Back in September 2016, the company was not even bothered to answer to customers and was mostly criticized for their poor customer service.
Of course, this query is not related to Jio at all. But, if you follow the same tweet thread, several users were complaining about Jio's network speed, signal availability, etc. Jio replied to all the tweets, and so does Vodafone. This shows the importance of social media for telecom networks as well.
At the start of 2017, we wrote an article on 'How 2017 will be a better year for consumers', and in the same article, we mentioned that operators who look after their consumers would be the ultimate winner end of the day. And this incident is one of the major steps towards the betterment of Indian telecom sector.