Reliance Jio has changed the entire telecom scenario in India. As you might be aware of the fact that Reliance Jio provides not only 4G services but also offers digital content in the form of Jio Music, JioPlay, Jio Cinema, etc. The company' standalone app for music, Jio Music has picked up a new update, where you can set hello tune, namely, the 'Jio Tune.'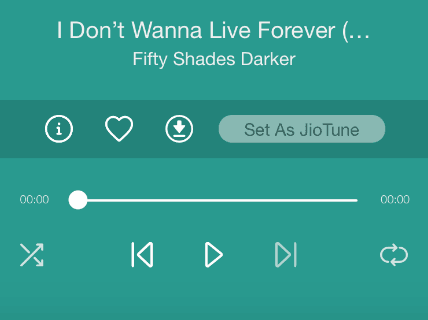 In the latest version of Jio Music in Apple iOS, you can see a new 'Set as Jio Tune' button in the music player screen, which by pressing will set that particular song as your hello tune. However, the feature is not yet live for Android users and we were unable to spot the feature even on the beta version of Jio Music in Google Play Store, and that's kind of interesting from user's perspective.
And yeah, Jio won't charge anything for setting a Jio Tune and the service is completely free for 30 days from the date of service. Moreover, if you have accidentally enabled the service, you can easily unsubscribe from Jio Tune service by sending an SMS 'STOP' to 56789. Both the activation and deactivation process is instant.
Bharti Airtel's Wynk Music app has the same feature for quite some time now, and it's good to see Jio adding new features quicker than expected, and that's sort of another bothering for incumbent operators. As of now, only Airtel and Jio has better content services, whereas Vodafone and Idea Cellular are slowly entering the space.
Aforesaid, Reliance Jio's only rival in the digital services space is Bharti Airtel as the India's largest telecom network has Wynk Movies to tackle Jio Cinema and Wynk Music to combat JioMusic. However, Airtel lacks the live TV service, which Jio and Vodafone are currently offering for free to their subscribers. Idea Cellular recently launched their host of content apps- Idea Music Lounge, Idea Movie Club, and Idea Game Spark, but again, the services are still in initial stages.
Reliance Jio, before this update, added a new interesting feature called as 'SmartDownload,' with which the company is forcing users to download more content in night times between 2 AM and 5 AM, where Jio is offering unlimited data without any FUP. Slowly, Jio added the same feature to JioCinema app as well and most of the users love this feature.
That said, Jio is working hard on bringing new features to their digital content apps. Currently, we don't have any information on when the feature will be added to the Android app, but we will keep you updated when the feature goes live for Android users as well. What do you think of this new feature? Will set a Jio Tune right away? Let us know in the comments below.