OnePlus 2, the most awaited smartphone off late will be launched on 27th July globally (28th July, 7:30 am IST) . The Chinese OEM is leaving no stone unturned to create hype around the device and has been revealing one feature at a time of the device. The company's CEO, Peter Lau, has just tweeted a picture stating that the smartphone will be priced below the $450 (roughly Rs 27,000) mark.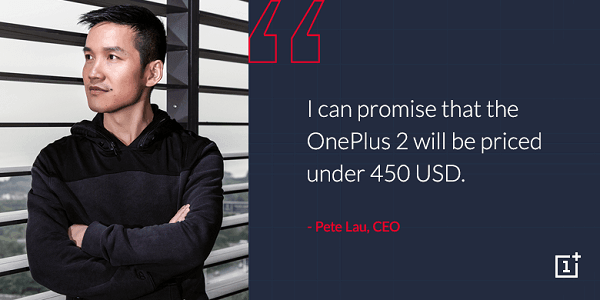 Earlier confirmation from Carl Pei, the founder of OnePlus revealed that the OnePlus 2 will cost more than $322 (current price of OnePlus One). Now that we have a price bracket on our hands, there would be all the more prospective customers lined up for it. There were rumours earlier about the smartphone costing around the $500 (roughly Rs 30,000) mark but the confirmation puts an end to all the rumours.
The OnePlus 2 has already been confirmed to come with a USB Type-C connector, Snapdragon 810 v2.1 chipset, fingerprint sensor that will be better than Apple's TouchID and will be launched at a Virtual Reality event. OnePlus 2 has all the makings of what could be a bestseller and will probably launch in India at the same time as its global launch.