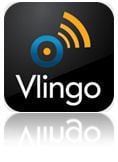 At TT we always strive to make our users comfortable by reviewing the most useful Apps available, one among such wonderful Apps is Vlingo.
Ever thought of telling your phone what to do by your voice and let your work done easily?
Here is an App that does the same work exactly. Instantly send a text message, make a call, search your phone, browse the web, make a note, update your Facebook or twitter status just by speaking to your phone and Vlingo does it for you.
Vlingo is available for BlackBerry smart phones, Apple's iPhone (3G, 3GS, iPod Touch – 2nd Gen), Nokia smartphones, Android and selected Windows Mobile phones, i.e. for every mobile platform we say.
Why to type when you have the freedom to get your work done just by speaking? Vlingo's intelligent voice recognition system does it for you and turns your words into action. It's the easiest way to get your work done on the go. Vlingo even speaks incoming texts & emails while you drive.
We just tried if it recognizes Indian ascent correctly and to our surprise it recognized almost all our commands. Thanks to its intelligent voice recognition system which adapts to language quickly.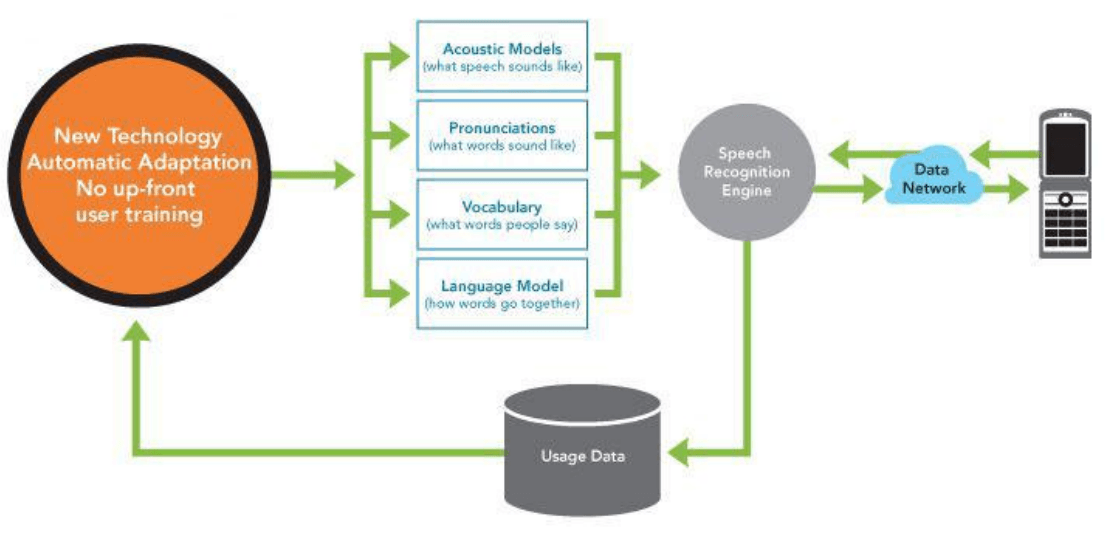 Vlingo is available in both free and paid versions cost (3 Euros), where the paid version unlocks the power of Vlingo. The size of the app is about 1.35Mb.Installation goes smooth and we advise you to restart your device. Once the installation completes, the app requires you to accept the terms and then initialization for the first time so that you can directly access the Hold and speak interface from next time.
Vlingo free and Vlingo Plus compare feature chart differs from platform to platform.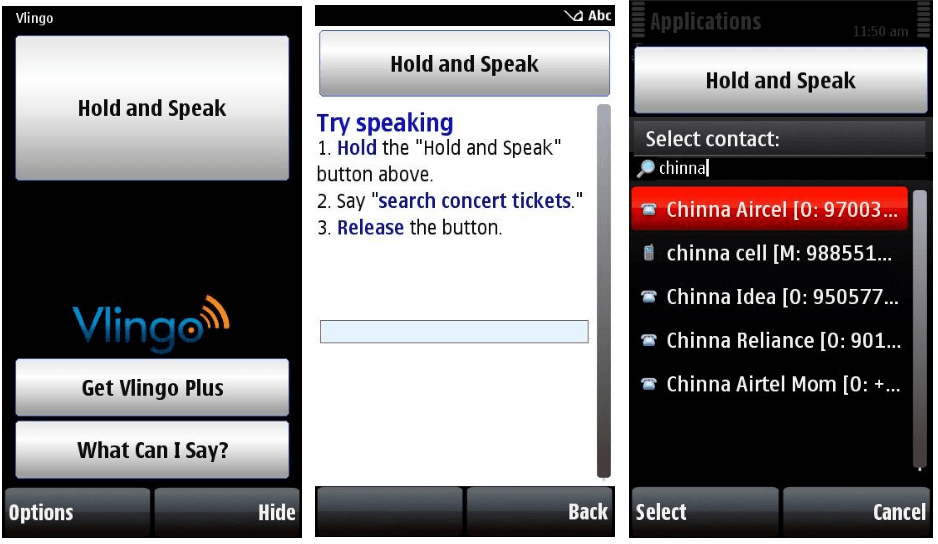 We just spelt the word "call chinna" holding the button and it bought all the contacts with that name to select the contact for calling. If there is a single contact it automatically calls that number after few seconds.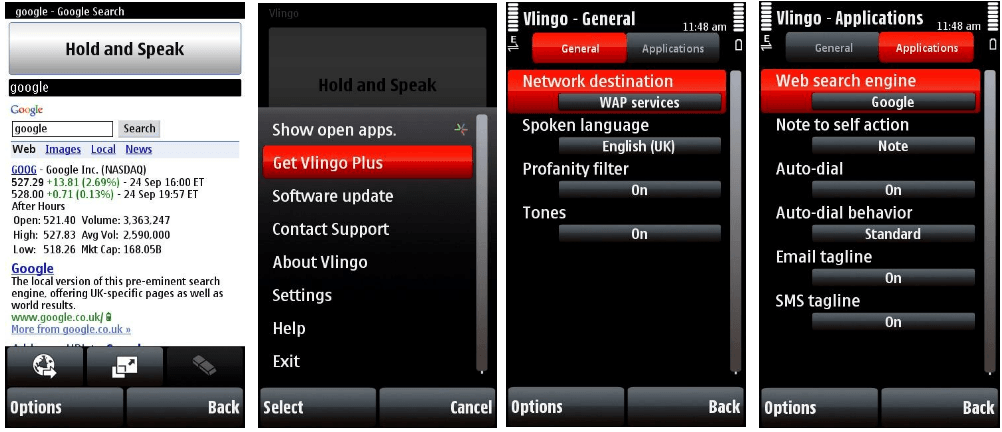 We also spelt "search Google " refer the above screen shot for your reference and the results were instant . You also have every customization option from General to Application option. Definitely Vlingo is an excellent app to have on mobile and we hope every user likes this fancy App.
Pros:-
1) A very Fancy application every user should try
2) Available for almost all the mobile platforms
3) DATA transfer during operation is very less
4) Accuracy in understanding the commands is very good
Cons:-
1) Free version is limited to features – calling/browsing/searching/note making
2) Application is DATA dependent and should have access to internet to work
3)Always need to hold and speak to work
Overall Vlingo is a fancy application that any user dreams of having it on mobile.
Now speak your sms, notes, tweets and even update Facebook with Vlingo Voice app on the go!
Get your copy from Vlingo's site or from Nokia's OVI store.