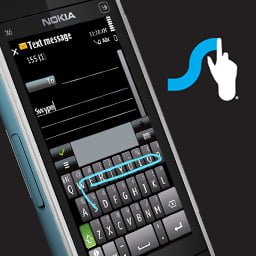 Good News for Nokia Smart Phone Lovers! If You are an Symbian S60 5th edition Touch Screen Phone User, you may have to Change your Old way of texting!
Nokia has very recently released an Official Application (beta) called "Swype" which eases texting on Phone.It is now the Time to Swype on your Touch Phone to Get Text which you want.
Just imagine the scenario where you don't lift your fingers from the touch Keypad of your phone and still you could text at the rate of 40 words per Minute! Not a joke this is how Swype works!!
All you need to do is trace the letters just by 'Swype'ing lines on the letters you want no need to tap on your keys every time to generate a letter you can be as lazy as you can to draw these simple lines with minimal effort.Swype is Now available in Nokia Beta a 3.5 Mb File which you could Download from Nokia Beta Labs (Remember to Sign In).
This Application is targeted for touch Screen Phones running on Symbian S60 5th edition the application is compatible for Nokia 5800, Nokia 5230, Nokia X6, Nokia N97, Nokia N97mini, C6-00 .

Though this application is a breakthrough giving a new dimension to message texting, it all depends on the consumers whether they could adopt to this new "Swype" replacing their "Tapping" style.Is this Change Good? Is this Change Confusing ? Do you think People Hate Change? We would like to hear your take on Nokia's "Swype" App.