Reliance Jio has been around with for us for a little above five months now. Already, the new entrant has become the favorite of several consumers on India. The major attraction for the network is its free 4G services and already the network has crossed 50 million subscriber base and the quickest one to achieve that milestone as well.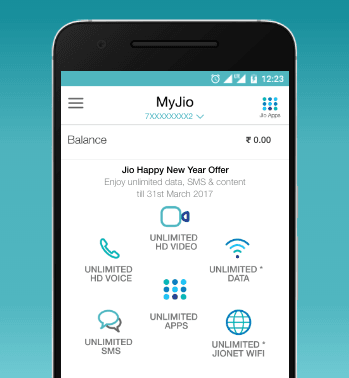 To give a brief idea of how customers are using their free 4G services, the company has an app called 'MyJio,' much like Airtel's My Airtel app. Also, this MyJio app is the chief architect to get a Jio 4G SIM card. That said, you need to generate a barcode to get a Jio SIM card.
Nevertheless, the company is improving the application in many ways to make it more customer friendly. Already, it offers several features such as the showing the data consumed for that particular day, check the voice calls duration and SMS sent.
Also Read: Here's What You Can Expect from Reliance Jio in 2017
Recently, the application picked up an update that made it more useful for the users to know how much data is consumed by the user along with the next refill time. Also, the application now allows you to recharge with the two booster packs of Rs. 301 and Rs. 51 in just a tap.
As seen in the image, the interface is same as the previous MyJio app, but now there is a new balance tab on the home screen itself, which shows your entitlement for the day. As said earlier, it illustrates the amount of data used for the day along with the renew time.
Apart from these, there are no other significant changes, but in the last update, the company added a new feature which allows you to track your new Jio 4G SIM card application from the first step along with the expected time to the SIM card to get delivered.
All said and done; Jio is working hard on providing a customer friendly interface to satisfy the consumers.