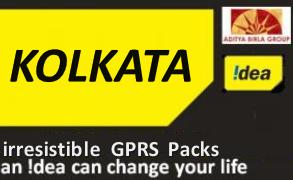 Now, the customers of Idea cellular can rejoice as Idea cellular has revamped its GPRS Pack offerings in the state.
Ranging from 1 day pack to 3 days and also to 30 days pack, Idea has completely revamped its GPRS Portfolio.
Earlier in September,TT reported that  Idea cellular launched GPRS packs which were priced at Rs.5  Rs. 16 and at Rs. 46 would provide the benefit of 20 MB (for one day), 500MB (for 3 days) and 600 MB (daily for 20 MB for 30 days).
But now, Idea cellular has made changes and now at Rs.5 customer will get the benefit of 50 MB with a validity of 1 day, with Rs. 16 you can enjoy 500 MB data download with a validity of 3 days whereas with Rs. 98 GPRS pack, you can enjoy downloading for 6 GB which was previously just 2.5 GB
For more details on activation and for other enquiries you can call 12345 from your Idea mobile.