Broadband Subscribers are on the rise the primary reason being the speed and the higher level of reliability that a Wired Broadband connection offers. TRAI recently released a document which sheds some light on the Operator wise broadband market share.

The report says that Mobile devices user which includes both phone and dongle has increased by a staggering 3.56% from the previous month. This rise owes to the fact that Smartphones are getting more and more affordable and most of the phones today support 3G networks and Wi-Fi tethering.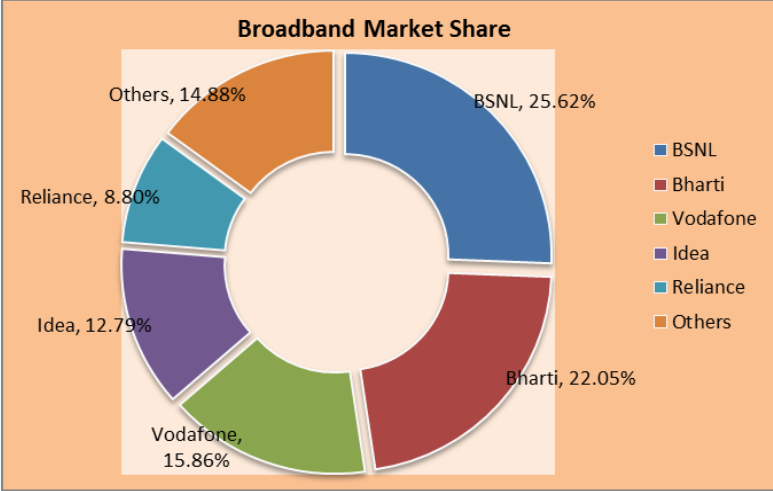 The pie chart depicts the market share of the Telecos when it comes to Wired + Wireless connections.
Top five Wired Broadband service providers are BSNL (9.98 million Subscribers), Bharti Airtel (1.40 million subscribers), Beam Telecom (0.40 million subscribers) and YOU Broadband (0.40 million subscribers).
The Top five Wireless Broadband Service providers consists of Bharti Airtel (14.21 million subscribers), Vodafone (11.23 million subscribers), Idea Cellular Ltd (9.06 million subscribers), BSNL (8.16 million subscribers) and at the last stands Reliance Communications (6.12 Million subscribers).
Wired Broadband as a segment is ever expanding and Airtel are riding the tide with good Broadband Combos and standalone plans. The MSOs are also putting in a hell lot of efforts to ramp up their subscriber's base and as a result we can see YOU and Beam in the Top 5 list.