Airtel is the first operator to come up with actual 4G LTE services in India and just like 3G, 4g services have not taken off and is growing at a rather sluggish pace. I have been using Airtel 4G via Huawei LTE dongle for the past 6 months as my primary source of Internet and have opted the Rs 999 10GB Unlimited Plan. Here are some reasons why you should be apprehensive about going for an Airtel 4G.
Airtel 4G Pricing
In short the 4G is still expensive even after Airtel reduced the price drastically almost an year ago. 10GB high speed data cost me Rs 1123 inclusive of taxes for a month which is decent but if your usage is lower, the cheapest data pack would be around Rs 700 for just 3GB of bundled data.
Airtel 4G Speed
If you are expecting blazing speeds compared to 4g, then you are in for a disappointment. The download speeds are limited to 12-14Mbps in areas with full strength LTE signals. The 3G speeds range between 8-11Mbps under the same condition so virtually not much of a difference for the extra 'G'.
Sluggish UI
The UI of Airtel 4g has room for improvement. The UI is sluggish and it sometimes takes more than 50 seconds to load. The Airtel personalised webpage opens every time you connect to airtel which is quiet irritating. Although the Airtel application doesn't show up increased CPU consumption, it still slows down the system considerable. I use it on a laptop with an Intel Core i3 chipset clocked at 2.4GHz with 4GB of RAM which is a pretty fast machine capable of doing everything.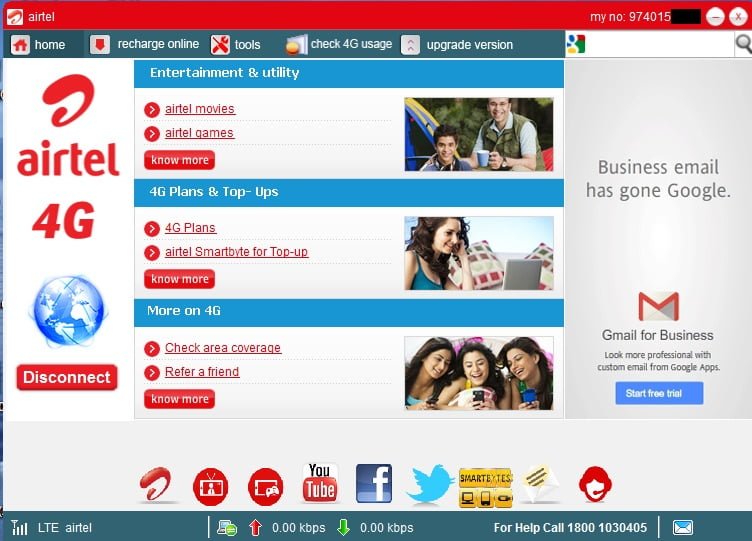 Fluctuating Speeds
The primary reason behind buying 4G is that I travel often and I need unparalleled Internet connectivity. The speeds in 3G areas of tier 2 cities like Dharwad in Karnataka was not so impressive and the worst part was that the connection started to switch to 2G due to lack of signals. Surprisingly, my mobile phone with Airtel SIM had 3G signals at the same place.
Data Quota
We would not recommend Airtel 4G to anyone using it as a primary source as the data will not be enough for an entire month. Higher volume data packs are expensive and make less sense. The speeds after throttling are pathetic as compared to any other ISP with FUP and even browsing becomes a daunting task.