Xiaomi, the so-called Apple of China is preparing to launch their next generation flagship phone, the Xiaomi Mi 6. The internet is already flooded with the rumors regarding the successor to the Xiaomi Mi 5. A promotional ad which came out from a Chinese website, Anzhuo, revealed that Xiaomi Mi 6 is slated to launch on Valentine's day (February 14) next year. Also, there are some other rumors as well touting the specifications.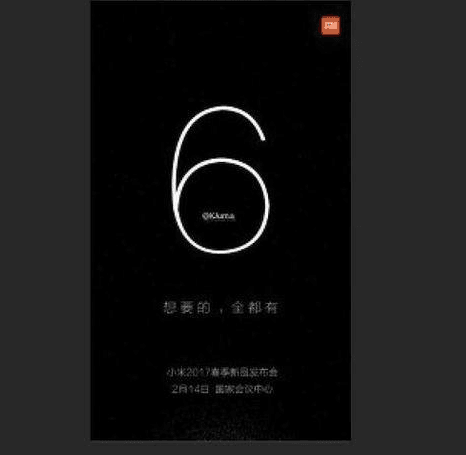 It is widely expected that Xiaomi will launch three variants of the Mi 6 for three different markets. The Qualcomm Snapdragon chipset variant will be the international one, and the MediaTek Helio chipset variant will be released in some countries. In the company's homeland, we might see the phone with Pinecone- Xiaomi's chipset. The Snapdragon variant will be regarded as Mi 6S, whereas the MediaTek and Pinecone SoC variants will be called as Mi 6E and Mi 6P.
Currently, there is no official update from Xiaomi regarding the launch event and these three options scenario. Going by earlier leaked rumors, all the three variants will feature same specifications apart from the chipset. The Xiaomi Mi 6 might use the same camera system as the Xiaomi Mi 5s Plus with some upgrades. The camera seen on the Mi 5s Plus was a dual camera one with two 16MP sensors. As of now, it is believed that a 4MP snapper will be seen on the front, same as the Xiaomi Mi 5.
A 5.15-inch Quad HD will be seen on the front. It looks like Xiaomi doesn't want to do any fancy stuff with their phone. The phone will be laden with Android 7.0 Nougat based MIUI 9 out-of-the-box, and noticeably, the Mi 6 will be the first phone to run MIUI 9.
Also Read: Xiaomi Mi Pad 3 with 9.7-inch Display and Windows 10 Leaks Ahead of Launch
6GB of RAM, storage variants starting from 32GB along with the same 3000mAh battery are the other specifications to be found on the phone. To recall, the Xiaomi Mi 5 was the first phone released with the Snapdragon 820 chipset and Xiaomi is aiming to do that with Mi 6 as well.