Xiaomi has become the second largest vendor globally in terms of wearable technology sales for the first quarter of 2015. Xiaomi currently has just one wearable technology product on sale globally, the Mi Band. The number one vendor was FitBit with a 34.2 percent market share but it has multiple offerings. Xiaomi had a 24.6 percent share with a single offering.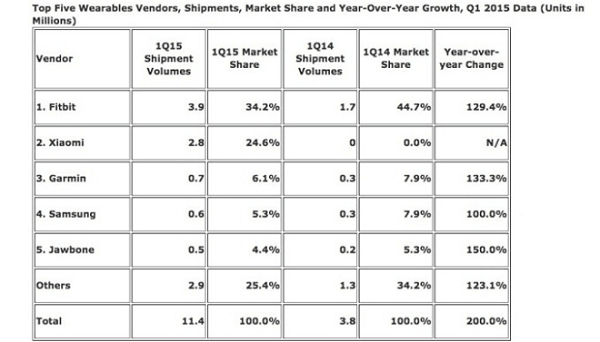 Garmin, Samsung and Jawbone occupied the third, fourth and fifth positions respectively with 6.1 percent, 5.3 percent and 4.4 percent shares respectively. The total number of wearables that were sold was 11.4 million which was more than the 3.8 million wearables than the same period last year.
Another reason for the Mi Band being the propeller for Xiaomi was its low price. Priced at just Rs 999/$13, it is one of the cheapest wearable devices globally. Fitbit has a wider base in terms of the countries it is present in and Xiaomi has a smaller footprint in terms of the countries it is present in. As the company increases its footprint, we can expect its market share to see a northward revision.
Apple didn't make it to the list because of the fact that the Apple Watch didn't go on sale till April. The report has been presented by IDC which is quite a credible research firm. More and more technology companies are launching their wearable technology devices.