The Mi Power Banks from Xiaomi are one of the most popular power banks in the country, courtesy of the fact that their value-for-money factor is quite high. Xiaomi currently has two power banks on sale in the country, one with a capacity of 5,200 mAh and the other one has 10,400 mAh, but both of them have been out of stock for quite a while. However, the two power banks are now back in stock on Flipkart with the price tags of Rs. 599 and Rs. 999 for the 5,200 mAh and 10,400 mAh versions respectively. Both of them come with Samsung/LG's batteries inside, and feature a pretty high quality build.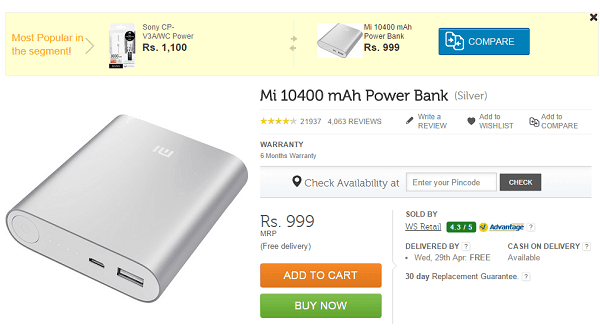 The 5,200 mAh power banks takes about 3-4 hours to charge completely, while the 10,400 mAh unit takes about 6-7 hours to do so. The functionality available as a result of these is quite high as you can easily travel without having to carry a charger around with you for a 4-5 day trip. There's not even  a single power bank on sale currently which could go up against the Xiaomi offering.
OnePlus is planning to launch its 10,000 mAh charger in India towards the end of April, which would be its only real competitor as its priced at $14.99 (about Rs 900), and has a support for charging two devices at once instead of one on the Xiaomi power banks.