Reliance Jio, the Mukesh Ambani-led 4G telecom operator, is preparing to commercially launch its services with a country wide 4G network and one of the largest retail footprint comprising upto 5 lac activation outlets and a million recharge outlets. While all looks good for Jio, we take a closer look to find out Jio is actually prepared to handle millions of users after the commercial launch.
Reliance Digital Store experience:
The first touch point of contact for millions of new potential customers is going to be Jio's retail outlets. Currently, there is just one point of sale for Jio SIMs and that is Reliance Digital stores, which are currently selling Lyf smartphones that come bundled with 90-day preview offer.
While the service at these stores hasn't been very smooth, but the extension of preview offer to Samsung smartphone revealed that the customer service isn't top notch, and isn't trained accordingly at a time when existing telcos are putting much efforts customer experience, be it online or offline.
In the midst of Samsung offer, a few people found out a bug in the MyJio app bug that was allowing everyone to fetch a coupon codes for a free preview data offer. The bug obviously led to a huge rush at Digital store because who wouldn't want unlimited data and content services for free that too for three months.
Few of my friends that had received the Samsung Jio offer informed that Digital store employees were very rude when approached for the Jio free SIM. Even after long waiting they were reluctant to issue the SIM and were pretending to be busy in providing support to other 'paying' customers at stores.
Some stores even insisted on purchase invoice and IMEI no of Samsung smartphone even after seeing the device in person. Also most stores just collected ID proof and photo then issued SIMs without even filling the CAF in front of the customer. A number of high end Samsung phone buyers felt disregarded seeing the attitude of Digital store employees.
Activation Delay
Jio has already conveyed that it is leveraging fully digital process, aimed at eliminating delays, for activation of new connections. When Jio rolled out Lyf preview in May this year, customers were able to get their SIMs activated within 10 minutes to few hours. However, the situation has changed lately with activation time taking 3-5 days that too even after repeated calls to the store, which shows the inability of Digital stores executives in handling large amount of activation request generated after Samsung preview offer.
Each city currently has an average two-three Digital store, which is certainly not enough to support the impending commercial launch.
Broken network
Earlier, it was expected that Jio's coverage issues would improve after the integration of 850MHz spectrum acquired from RCOM. However, the integration has apparently impacted data speeds for a number of users. Customers, who were able to get around 10Mbps speed on 1800MHz band, are now able to get speeds between 1Mbps to 5Mbps on 850MHz, which considered a better band for data services.
In terms of coverage, 850 Mhz has also failed to deliver any massive improvements. In short, enabling 850 Mhz only led to deterioration of Jio 4G experience.
As per update from Jio technical teams, this was mainly due to low quantity of 850MHz spectrum, which is just 3.75 Mhz in most circles. While for optimum LTE performance at least 5MHz is required. Jio is currently optimizing its network to use 850MHz mainly for VoLTE and data service to run on 1800Mhz and 2300Mhz.
Call connectivity issue
Jio seems to be experiencing serious call connectivity issues when calling Idea, Vodafone and Airtel numbers, as Jio users get "All lines are busy" message while reaching out to networks of incumbent telcos.
It is not clear whether these operators have deliberately assigned low bandwidth lines to Jio as the issue is unlikely to emerge at Jio end given that calls to other networks works fine. The top three operators hold over 70% market share in the country, seamless call connectivity to these operators' network would be crucial for Jio.
Internet bandwidth throttling
Jio 4G network provides one of the fastest 4G speeds in India. On 2300 MHz, 30-60Mbps 4G internet speed are delivered to users. However, I noticed that Jio's internet speed while downloading from servers located in Europe or US has slow down significantly. The below speedtest results suggest the same. On the contrary, servers located in India or in Singapore deliver speeds of 40-50Mbps.
This was not the case till last month, as full speed was available while downloading from any server located anywhere in the world. Over 1.5 million customers making the most out of the unlimited preview offer seems to have choked Jio's international bandwidth carrying capacity.
Jio last month reported an average usage of 26GB per user with a total monthly usage at 38,000TB per month or 1,266TB per day. Comparatively, BSNL's peak single day data usage last year was just 250TB. This data was published before Jio started Samsung Preview offer.
Customer support delay
Earlier, Jio Care was able to direct connection without the need to select any IVR options, and calls were getting connected to executives within seconds. However, it is now taking more than 15 minutes to connect to an agent since last few days. Live Chat support now shows an estimated wait time of 113 minutes which was insane for anyone to wait for customer support.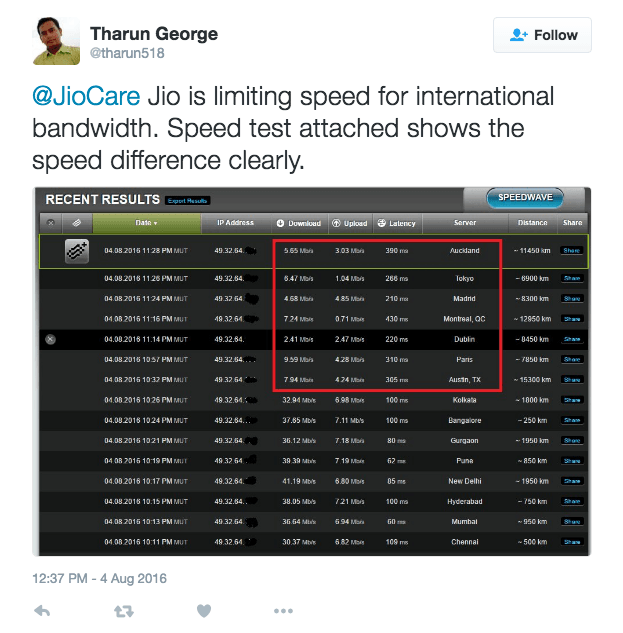 On the other hand, emails to care at Jio.com elicit replies after 4-5 days delay. Jio promises to resolve most complaints within 48 hours. However, most complaints are open for weeks now and there is no update from Jio care. To be precise, Jio care can't even handle the pre-launch customer base of just 1.5 million.
Jio is not ready for launch
In the latest statement released by Reliance Industries, commercial launch of Jio is will happen in coming months, which contradicts earlier reports suggesting August 15 launch. At current condition, Jio is far from ready for a commercial launch. Jio would need to address aforementioned issues and add more resources for its support team; otherwise it won't be able to handle the huge demand generated at the commercial launch. We present this article as a feedback to Jio team.
Though Jio is in its beta stage im sure Jio must be learning from all these mistakes and by the time when they are ready for a full fledged commercial launch all these things can be fixed but its just matter of time.
Do you agree with my findings? Please let us know by comments below.
DISCLAIMER : Views expressed above are the author's own