Vodafone recently unveiled an innovative scheme called 'Vodafone Campus Survival Kit' for the students in Delhi NCR, UP West & Uttarakhand. And today, the company announced that the same scheme is rolled out to Kolkata region. Vodafone says that this plan will enable students to stay connected at all times and attractive value for money deals from popular brands so that college becomes even more enjoyable.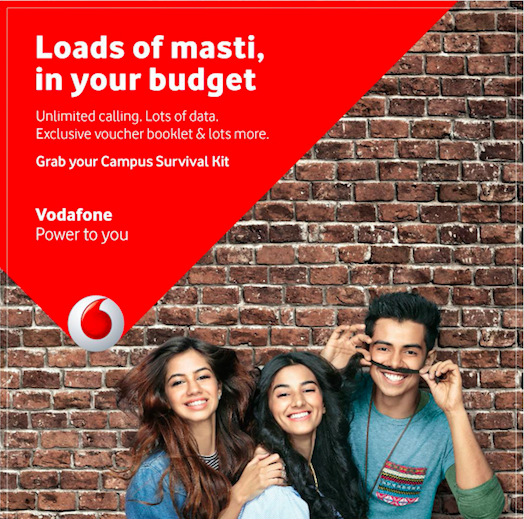 The Vodafone Campus Survival Kit has been created keeping in mind the unique requirements of the young generation as they commence a fresh year of college. A perfect fit for a generation that is using smart phones and smart devices for everything, from collecting information, communicating, to share their opinions, entertainment and recreational purposes. Relying almost entirely on digital content like hyper-personalised offerings and tending to veer toward deals that are pocket-friendly, says Vodafone.
Vodafone Campus Survival Kit is a unique package of youth centric deals on telecom and lifestyle amenities says the company. Each Vodafone Campus Survival Kit comes with an exclusive prepaid SIM card, special vouchers for food, beverages & entertainment from popular brands like Lakme Salon, Pizza Hut, Abof, Printvenue, Cookie Man etc. and 1 year supply of daily life hacks.
Students under the Campus Survival Kit can enjoy the first recharge of Rs. 446 which gives unlimited calling to any number in India with 1GB of free 4G data every day for 84 days on 4G devices.
Announcing the launch of Vodafone Campus Survival Kit, Arvinder Singh Sachdev, Business Head- Kolkata & West Bengal, Vodafone India said, "The beginning of college life opens a world of opportunities and experiences for youngsters. While they want to use their new found freedom to explore these opportunities, their tight pocket allowance proves challenging. To overcome this challenge, they are always looking for hacks and shortcuts to be resourceful and live life to the fullest making great memories for future. The Vodafone Campus Survival Kit is an initiative to equip them with the best Telco and non Telco deals to help them sail through their college life without compromising on their good times."