Vodafone and Idea will create a new LTE ecosystem in the country on 2500MHz band (TDD-LTE on Band 41). Both companies did not have any spectrum in the 2300MHz band and they are currently offering LTE-FD on the liberalized 1800 MHz band only. Vodafone has acquired 2500MHz spectrum in 14 circles while Idea won the same in 15 circles.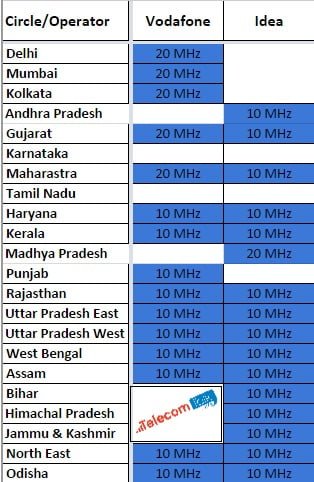 While Vodafone targets metro circles and mostly cat-B circles for its upcoming LTE-TD Band 41 services, Idea skips metro circles and has concentrated on cat-B and cat-C circles.
As they are the only two private telcos to have spectrum on this band 41 apart from state owned PSU BSNL, they can eventually share the spectrum and can go for ICRA for LTE-TD on 2500MHz band. However even after ICRA rolls in, they will not have any LTE 2500 MHz coverage in certain circles like Karnataka and Tamilnadu.
Vodafone seems to be very serious about 4G in metro circles as they acquired 20MHz of spectrum in the band in all three metro circles - Kolkata, Mumbai, Delhi and in one cat-A circle - Maharashtra. In the remaining 10 circles Vodafone grabbed 10 MHz of spectrum in this band.
Idea along with 15 circles in 2500MHz band spectrum, has topped up in 3 circles (Maharashtra, Kerala and Madhya Pradesh) with 2300MHz band. All of these 3 circles have been enjoying Idea's LTE-FDD on 1800MHz for some time and may eventually get LTE-Advanced by carrier aggregation across three different bands (band 3, band 40 and band 41).
Globally operators did not prefer 2500MHz band for LTE roll out - there are less than 15 operators who operate on this band. China Telecom, China Mobile, China Unicom, Sprint (USA), KDDI (Japan), SoftBank (Japan), Globe (Philippines) are some of such operators.
There is also a shortage of devices supporting LTE-TD on 2500 MHz band - as per GSA only 57% of all LTE devices support this band and LTE-TD as well and most of them are not smartphones. The bad news is, in India a few handsets support this band and this LTE technology. Will someone buy a new device/smartphone just to use his operator's LTE service that is launched on a new band of spectrum?
So Vodafone and Idea will have to create the complete ecosystem around LTE-TD on 2500 MHz band including the devices from almost nothing and they will have to convince the subscribers to get a new device to start using their to-be-launched LTE 2500 MHz services. The road is slippery for sure!