There are rumors surfacing online and on platforms such as WhatsApp promising tricks to increase the data usage limit of Reliance Jio to 10GB from the current daily cap of 1GB. A few websites such as BGR and International Business Times validate such reports as the hoax and warn the readers not to try these tricks.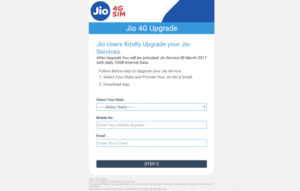 One of the tricks asks the users to visit the website 'upgrade-jio4g dot ml' and enter details such as name, e-mail ID, the state of residence, and mobile number. After entering the details, the website asks the users to share the offer to a minimum of 10 friends and groups to continue. After sharing the website with friends, it will ask the users to download a mobile app.
If carefully scanned its terms and conditions, the website shows a message at the footer saying 'Go4G is not affiliated with Reliance or Jio in any way.' The reports claim the URL itself to be fake.
Those readers who try the tricks to increase the Jio data usage to 10GB through this website risk revealing their information to scamming or hackers. They also extend the risks to their friends and groups by sharing it.
There are plenty of such videos and blogs online popping up every day, either with ways to speed up the 4G data speed or access the free internet without data plans. These processes involve redirecting to unsecure proxy addresses and server ports, giving attackers access to the phone and data stored in it, pointed out the report by BGR.
Also Read: Reliance Jio May Continue Free Voice Offer, But Charge Nominal Fee For Data After March 31: Report
Currently, Reliance Jio has not announced any plans to increase the data usage limit. The benefit of Jio remains at free 4G data (with a limit of 1GB usage per day), voice calls and SMS services for free till 31 March 31. After the 1GB usage, the customer can recharge for Rs. 51, which will provide 1GB data for a day. The subscriber can also recharge for Rs. 301 and avail 6GB data for a month (28 days).
Hence, Telecom Talk too requests its readers to keep away from such hoaxes by cyber criminals.