Back in March 2017, ACT Fibernet, India's leading non-telco Internet Service Provider (ISP) unveiled the country's first Gigabit broadband on fiber. However, the Gigabit service has been made available only in Hyderabad, making it the first Giga speed city in the country.
ACT Fibernet has over 65 percent of market share in Hyderabad, which obviously is another reason for the company to choose the city.
ACT Fibernet is the first player in the Indian internet market to GIGA enable an entire Indian city.
We've have spent enough time with the ACT Giga Broadband and here are our thoughts and analysis of our experience.
Feasibility and Activation duration:
The entire process took just 2 days from GIGA feasibility check up to a consumer actually enjoying GIGA speeds on his/her machine. The consumer is kept updated with all the relevant communication all the time during this process.
Setup:
The Customer Premises Equipment setup for GIGA Fibernet is also pretty simple and straight forward. All a consumer needs is an equipment which converts light signals to electrical signals as the data transmission directly happens via optical fiber.
The detailed overview of the setup is as illustrated.

Plans:
As these are plans for GIGA speeds, don't expect them to be very consumer friendly or ultra cheap. These plans are for some serious users who prefer speeds, quality, and connectivity all the time. Basic Plan starts from Rs. 5999 monthly to yearly plans with attractive long term benefits.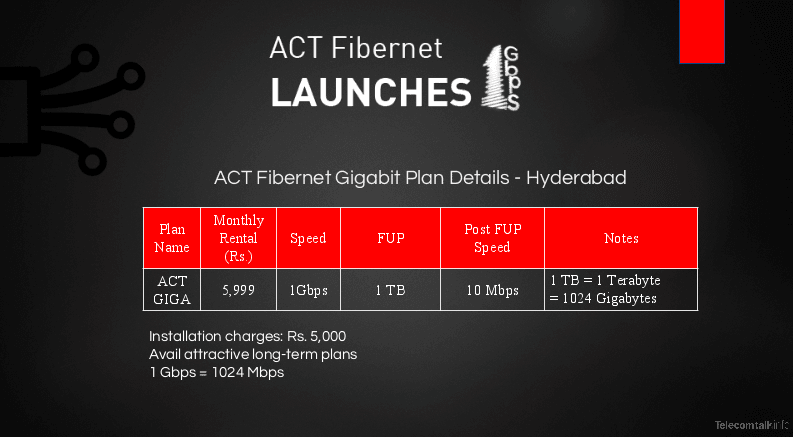 ACT FIBERNET GIGABIT PLAN DETAILS: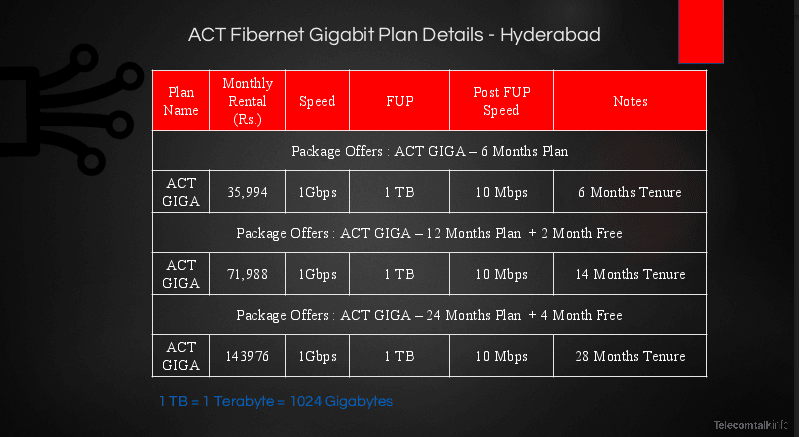 Flexy Bytes:
A customer can add additional data to his account if he feels his monthly data usage limit is insufficient to meet his data needs for the month via Flexy Bytes. The concept of Flexy Bytes is so simple; with flexy bytes, one can top up data to their existing broadband plan. Top Ups are available from as low as 10GB to 100GB. You can also top up any number of times depending on your requirement.
What is One Giga Speed?
1 Gigabit = 1000 Megabits
System Requirements: To experience optimum performance, you need a compatible system with required specifications.
Giga speeds work best with an Intel Core i7 processor 2.5Ghz, and an 8GB RAM, with a 64-bit OS and 1 Gbps LAN/Ethernet port.You'll also need to make sure that the type of copper cable used to connect your PC is of type CAT6 (4 pair).
[youtube https://www.youtube.com/watch?v=TrGkP4a7qpI&w=600&h=450]
Speed Test Performance Results:
To be practical, Yes, we have experienced GIGA speeds seamlessly without a second thought on all possible sites which supported the same.
Video: Real life usage Performace tests are showcased in the video for you to have a detailed overview of the same.
Mobile Application:
ACT provides a one stop solution for all needs any broadband consumer expects via its Mobile Application.
One can
1.Track their Data Usage
2.Register a service or billing query
3.Purchase FlexyBytes
4.Pay their Bill
5.Access Multiple Accounts
using the application.
This application should solve most of the basic queries a consumer has on his/her broadband connection/plan.
Speed and Reliability
Our Experience
We have experienced maximum practical speeds ranging from 810-870Mbps most of the times at any time of the day both for downloads/uploads. This is for sure a practical GIGA experience ACT has made available to end consumers. At times we have also experienced speeds touching 950Mbps as well on some sites. There is no downtime in our usage, and the GIGA connectivity is always up and available performing at optimum speeds.
Question and Answers:
Few Question were answered in the video as well.
Apart from being the largest non-telco ISP, ACT Fibernet has the best global fiber optic technology and is now bringing world class experience with futuristic speeds to Indian consumers.
If you have any more questions feel free to leave a comment or tweet us @TelecomTalk.
Dear readers, what are your thoughts on ACT Fibernet's GIGA connectivity available to end users, if you are already experiencing GIGA speeds or would love to explore please share your thoughts via comments.