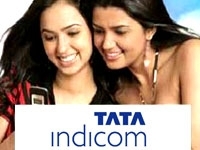 India's CDMA sector is heated up by the entry of MTS India. To compete with MTS's unmatched offers, India's second largest CDMA operator Tata Indicom launched a new innovative life time offer for its CDMA Mobile service at just Rs 99 for Kolkata circle. Advertisements are out on newspapers, saying "Kolkata to Kalimpong @ 50p"
Here are the Details-
TATA Indicom Lifetime 99:
Cost Rs 99
Validity : lifelong
Tariff :
Local Calls 50 paisa per min after the 1st min of the day which is charged @ Re1.
STD Rs 1.50/min
SMS (Local/National) 50 paisa after 1st SMS of the day charged @Re1
At the same time Tata Indicom to catch new customers started a bundled offer with Samsung Hero series CDMA handsets. Samsung Hero B189 comes with 150 minutes talktime per month for 1st 4months at Rs 1400. Samsung Superhero comes with 200 minutes per month for 1st 4months at just Rs1800. Best part of it these free minutes can be used to call any local numbers.