Samsung has once again retained its position of top smartphone vendor for both Q4 2015 and the entire year, according to Gartner. According to the research released by Gartner, Samsung has sold 83.4 million units last quarter, claiming 20.7% share of the market. In Q4 2014, the share was 19.9%.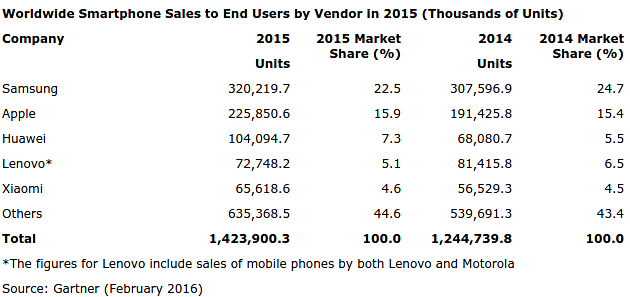 Followed by Samsung is Apple, with sales of 71.5 million units. Apple attained a market share of 17.7% in Q4 2015 while Huawei claims the third spot by selling 32.1 million units and acquiring a market share of 8%.
Lenovo and Xiaomi come next on the list, Lenovo sold 20 million smartphone units while Xiaomi settled on 18.2 million units. With this Lenovo has attained a market share of 5% and Xiaomi has got 4.5% share. Lenovo's figure is including Motorola devices.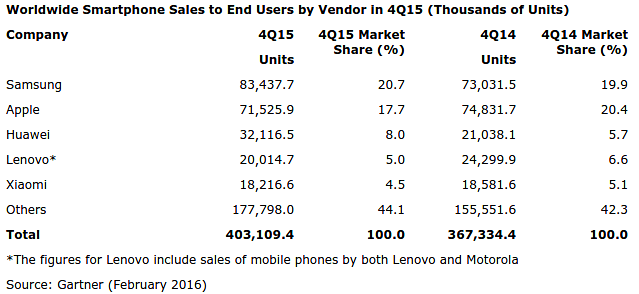 Overall, the global smartphone sale has surged 9.7% in Q4 2015. For the entire year 2015, Samsung holds the top position acquiring a market share of 22.5%. It's slightly down from the share it had in 2014 of 24.7%. Apple's share for the entire year stands at 15.9%, followed by Huawei with 7.3%. Lenovo, including the sale of Motorola devices, recorded 5.1% share in 2015, whereas Xiaomi made 4.6%.
Huawei was the best performer in terms of sales, the company faired pretty well for the entire year as well as in Q4 2015. Huawei achieved the best growth with a 53% jump in sales in Q4 2015.
Android is still termed to be the best operating system in the market. It retained the No.1 position in Q4 2015 with over 80% share, which is a jump of over 4% compared to Q4 2014. Apple iOS share fell from 20.4% to 17.7%. Windows OS market share stays at 1.1% in Q4 2015. Blackberry has registered a share of 0.2%. According to Gartner's data, Windows Phone sales dropped to 4.3 million units in last quarter from 10.4 million in Q4 2014.