Samsung Electronics, leading mobile phone manufacturer, today announced the launch of two new 3G enabled smartphones Wave and Galaxy S in India at Rs.19,100 and 31,500 respectively.
Speaking at the launch new of two new smartphones, Mr J S Shin, President & CEO, Samsung South West Asia said "Consumers today relate to their mobiles as communication hubs as personal gateways to communicate with friends, family and the world at large.
He also added  "The Smartphone era is here and we at Samsung, are committed to making Smartphones available for everyone. Samsung 'bada', our new mobile platform is the key driver for our global smartphone strategy.
According to Mr. Ranjit Yadav, Director - Mobile & IT, Samsung Electronics, "We have been focusing more on open OS mobiles recently since many key characteristics of smartphones are becoming more and more important, especially mobile internet, messaging features, strong 3rd party applications and flexibility for customization. In the open OS area, our strategy is to be there with whatever customers want. That is the reason we are offering mobiles based on the Android, Windows and now 'bada' platform in the Indian market ."
Samsung Wave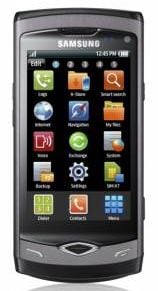 The Samsung Wave features the worlds first Super AMOLED display; delivering an unrivaled screen experience on a smart phone. The Super AMOLED offers a much brighter, clearer, and less reflective viewing experience. With a free viewing angle and super fast response enabled by this proven technology, the Samsung Wave display provides superb image quality for viewing both videos and photos.
Samsung Wave will be amazing device for those who love music, the device home-page can be turned into an intuitive media player; while for those who take and share a lot of photos, the page can be customized to feature favorite images. Users will also benefit from Quick Panel, a way of prioritizing and aggregating apps into one screen for instant access.
"Samsung's Bada platform offers a genuine smartphone experience rich with mobile applications, new technology and possibilities to Samsung mobile phone users. The name 'Bada', which means 'Ocean' in Korean, was chosen to convey the limitless variety of potential applications which can be created using the new platform. It also alludes to Samsung's commitment to a variety of open platforms in the mobile industry.
The Samsung Wave is the first handset in the world that incorporates the Bluetooth 3.0 and WiFi 802.11n standards.
Samsung Galaxy S
The Android powered Samsung Galaxy S incorporates a 4-inch Super AMOLED screen and a 1 GHz application processor that enables vibrant HD videos, rich augmented reality content through Layar Reality Browser.
The 'Social Hub' provides always-on social networks connectivity allowing users to enjoy communications with their friends, colleagues, and families whenever they want and wherever they are. Social Hub which allows the consumers to efficiently manage their communication needs by providing intuitive and unified access to emails, IMs and Social Networking Sites (SNS). The benefits of Social Hub are further enhanced by the Wave's TouchWiz 3.0 UI, delivering superb user experience. Availability of Social Hub can be decided by market demands.
The Galaxy S immerses users in a world of rich multimedia. The large 4-inch Super AMOLED display delivers unrivalled screen quality, with less reflection, free viewing angles and super-fast touch-response. The mDNIe (mobile Digital Natural Image engine) – a technology used in Samsung's best-selling LCD and LED TVs – boosts an even sharper and crisper viewing experience for photos, videos, and e-books. It creates a perfect environment to record, edit and play HD video, to browse the Internet, and to read your favourite e-books. A variety of Google applications from Android Market allows users to even more extend the benefits and excitement of smartphone experience.
Samsung Galaxy S delivers just that by utilizing personal preferences to gather information online that each user needs and wants. With a user-defined daily briefing, lightning-fast processing speeds and location-based search options like Layar Reality Browser – the Galaxy S gives users the information they need wherever and whenever needed. The Galaxy S represents the next level of intelligence in smartphones.
The Galaxy S integrates every aspect of life in a smart and sophisticated way. In addition to wireless integration with a variety of other devices, such as notebooks, TVs and cameras, the highly advanced Social Hub plugs users quickly and conveniently into their complete world of social networking and email.
Samsung Galaxy S is the perfect device for people in all corners of the world who want that extra edge; to be more effective, productive, better connected, and in tune with their smart life both personal and professional all in a very easy and simple way.