If you are a user who needs conference calls in your day to day life and misses the flexibility backed by sophisticated IT infrastructure, here is an app that you may consider a try. Now, enjoy conference calls even when you are out of office and have little access to IT infrastructure. Developed by Comverg, NowConfer is an app that helps facilitate conference calls on-the-move.
This app intends to solve the problem of conferencing on the go as it offers quick and easy audio and video conferencing on your mobile. NowConfer is available in both the Google Play Store and App Store. Now, let us see what is this app all about.
No bridges required. No PINs. No passcode. No email invites. No need to even dial into the conference, the organizer needs to schedule the conference via App and NowConfer will take care of the rest, simplifying the entire conference process. The conference service comes in two package bundles, one is Free forever and the other is premium version.
How does it work?
1.The conference organizer picks up the conference day, time and duration.
2.Invite attendees from the contact list and that's it, the conference is scheduled.
All the invitees will get details regarding the conference through SMS. The application also recognizes contacts who already use NowConfer and shows up in the contact list.
If the attendees are connected via app/data they will get a callback on the app via data call else will get a regular voice call with the incoming number of that of the conference organizer.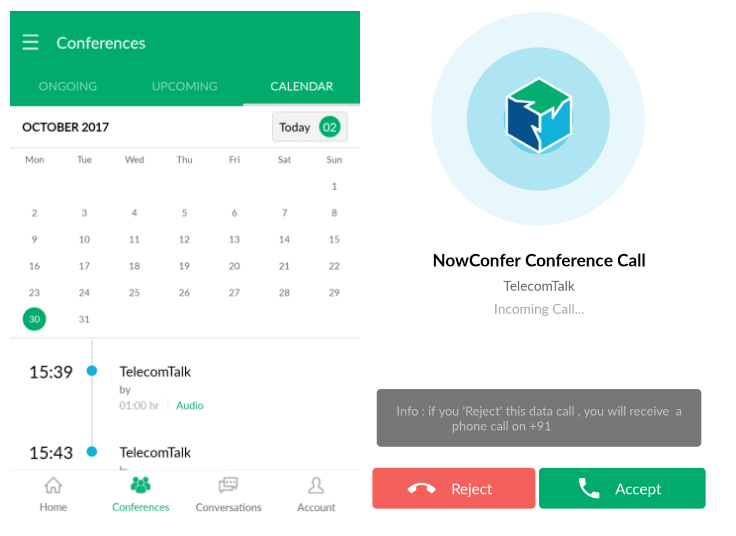 Free Account users will get credits credited to the account to use the services.
The App also has integrations with various Calendar service providers and storage providers for *storing Conference call recordings.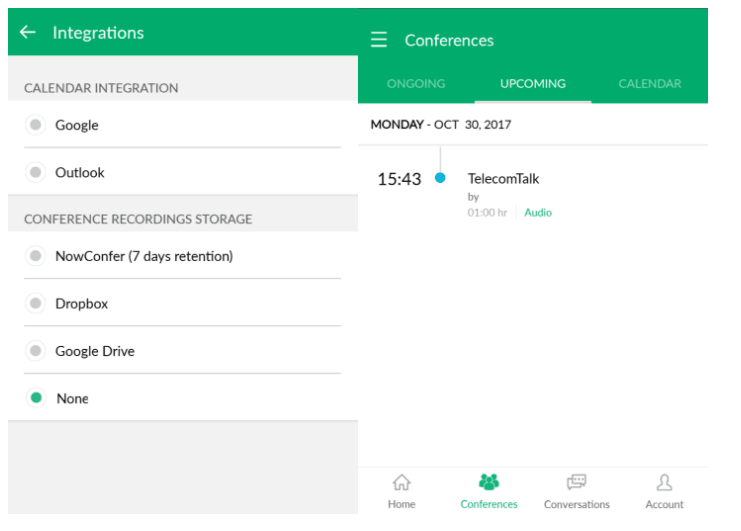 An overview of the complete package of features that come bundled with the app:
In case you have a question, what if an attendee gets disconnected in the middle of the conference?
Not a problem, one can dial the number received via SMS and the system will auto-generate a voice call with the meeting schedulers number as the incoming caller ID, provided you got disconnected from the conference before the meeting end time. So, one doesn't need to follow the tedious process of remembering codes or dial-in numbers.
Notifications: You will be notified both by SMS and email the conference details and the conference summary.
In our usage, we found the app pretty useful to solve the problem of personal or professional conferencing without much IT backend at the consumers' end. You can even use Nowconfer via the web application on your desktop browser to attend conference calls.
Experience the future of conferencing, on the move with NowConfer Application. Dear readers, if you have used this app already, do let us know your feedback via comments.